An All Year-Round Lawn Care Service and Lawn Treatments in West Kirby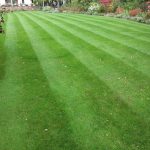 When is the best time to feed a lawn? What lawn treatments should I use? How do I get rid of moss? These are all common questions that people ask when thinking about lawn care. But you don't have to worry, let LawnQuest take the stress away from looking after your lawn. We have all the answers. We know the best times of the year to treat your lawn as well as what lawn feed to use and how to get rid of weeds and moss with moss treatment in West Kirby.
As part of the first step, we will visit you at your home or business premises and carry out an assessment of the lawn, which is effectively like a health check. We will analyse the health of the grass and identify problems or potential problems such as weeds, moss, thatch and over exposure to the sun. During the assessment we will also take into consideration the environment which includes grass and soil type as well as how much use the garden gets with foot fall. It's a combination of these factors which can impact on how healthy your lawn is and what lawn feed is needed.
Once we have completed the assessment and analysed the results, we will put together a maintenance plan that is tailored to meet your lawns needs which will include lawn treatments in West Kirby.
Lawn Feed to Meet the Needs of Your Lawn
Once the plan has been agreed with you, we will then visit your home or business premises at various intervals throughout the year to apply seasonal lawn treatments in West Kirby as well as lawn feed that is specific to the needs of your lawn.
We can also carry out ongoing maintenance to your lawn such as scarification and aerating it with a hollow tine aerator to avoid getting compacted grass. This can again be influenced by the soil type for example if you have a clay soil, sharp sand brushed into the holes created by the tines can improve air and water circulation which will improve the growing environment of the plant. These are recommendations that LawnQuest can make and advise you on.
Tired of seeing a lawn full of moss? Not any more with Moss Treatment in West Kirby!
As part of the service that LawnQuest provides we will address problems with your lawn such as moss. This is a common problem, but we have the expertise and knowledge based on training and experience to identify what procedures to use and what moss treatment in West Kirby to carry out to rid your lawn of moss.
Save Yourself Time with our Lawn Cutting Service in West Kirby
Mowing your lawn is an essential part of lawn maintenance throughout the year as is helps to keep your lawn healthy, weed free and looking great. Regular trimming of your lawn encourages the roots to spread which in the long term can limit the growth of weeds as they have limited space to establish themselves. That's why using a lawn cutting service in West Kirby is essential. As part of our lawn care package, LawnQuest provide a lawn cutting service in West Kirby.
If you would like to find out more about any of our lawn treatments in West Kirby, moss treatments in West Kirby or lawn cutting service in West Kirby give LawnQuest a ring. We are more than happy to help. Call us on 0800 112 3970.
Contact LawnQuest today
Contact us to request a free lawn analysis and quote.