Watch Your Lawn Transform with our Lawn Treatments in Warrington!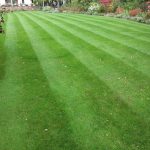 Whatever the weather is doing outside, whatever the temperature is and regardless of how much footfall your lawn experiences, the grass will continue to grow throughout the year. Granted, at certain times of the year, growth slows down, but it never actually stops, so it's important that your lawn is given a range of lawn treatments in Warrington throughout the year to ensure it stays healthy whatever the season.
Let LawnQuest put together a tailormade package of lawn treatments in Warrington that's suited to the needs of your lawn. We will visit your home to assess and analyse your garden to identify the type of soil and grass as well as any problems your lawn may be experiencing such as moss or thatch. We will then recommend a course of lawn treatments in Warrington for application throughout the year. We will visit your home at regular intervals at a time convenient to you. Let us take the stress out of caring for your lawn.
Treat your Lawn to a Lawn Feed.
Just as we might take health supplements to provide us with additional vitamins and minerals that might be missing from our diet, Lawn Feed does exactly the same for your lawn. It supplies your lawn with the right nutrients to ensure it has everything it needs to help it grow healthy and strong.
Similarly, just as there may be a range of health supplements available, not all may be suited to the needs of an individual, it's the same with lawn feed. At LawnQuest we are thoroughly conversant with all the different lawn feed options available and will choose one that is right for your lawn as no two lawns are the same. This is because the type of soil and grass can vary, likewise, some lawns get more sun or shade than others which can impact on grass growth. We take all of these factors into consideration when deciding how to treat your lawn.
At LawnQuest we also know when the optimum time is to feed your lawn and will make recommendations regarding the times of the year it should be treated.
Moss Free Lawns with Moss Treatment in Warrington!
Have you noticed small patches of moss developing in your lawn? No garden is immune to moss and even the most experienced gardeners have to contend with it at some point. The damp climate and lack of sunlight in this country as well as poorly drained soils are contributing factors.
LawnQuest provides inexpensive moss treatment in Warrington which will restore your lawn to how it should be – moss free, lush green and healthy! We will identify and investigate the specific causes of the moss problem and will suggest a moss treatment in Warrington to address it.
An essential part of getting rid of moss is raking the lawn with either a rake or a lawn scarifier and it is best to do this before the moss produces spores which is generally in Spring. At LawnQuest we will start by raking some of the moss out. The remaining moss will then be thin enough for the moss killer that is next applied to penetrate through. Using the right products, you should start to see a difference in weeks! However ongoing moss treatment in Warrington that is varied according to the season will ensure that the lawn is competitive, and moss finds it difficult to get a foothold to grow again. We will provide you with reliable and informed advice on how to treat the moss.
Contact LawnQuest today
Contact us to request a free lawn analysis and quote.