Why Apply Lawn Treatments in Thurstaston and Irby?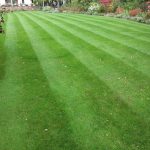 LawnQuest provide a comprehensive range of lawn treatments in Thurstaston and Irby. Why is this important? Because giving your lawn the nutrients it needs through a lawn fertiliser will encourage the grass to grow stronger and denser to give it a lush green appearance. But it's not just about the look of your lawn. Applying a series of lawn treatments in Thurstaston and Irby throughout the year will help the grass to withstand wear and tear during the summer months as well as recover more quickly in the Autumn from higher amounts of usage. Likewise, during the winter months the grass will be able to endure the harsher weather conditions.
Having regular lawn treatments in Thurstaston and Irby, will also ensure that with a balanced nutrient programme you can stop the grass from becoming patchy and thin which would encourage moss and weeds.
Give Your Grass Lawn Feed Spring, Summer, Autumn and Winter
If you want to improve the health and appearance of your lawn, or it's already a healthy lawn and you want to maintain it, applying a lawn feed will help. LawnQuest will ensure that we give your lawn the right balance of nutrients through the lawn feed that we apply as well as giving your lawn other treatments if necessary, to control weeds. In addition, we can identify pest and grass disease and put together a targeted series of treatments including lawn feed to address this.
Controlling Moss in Your Lawn with LawnQuest Moss Treatment in Thurstaston and Irby.
Not all moss is unwelcome. Sometimes it can provide ground cover for a decorative effect, however it can also be an unwanted nuisance. How do you remove moss from your lawn? One of the primary ways is spreading iron based moss killer. Sometimes, simply adding lime to the soil can help by making it less acidic. Using good old-fashioned elbow grease by raking out the living moss can also get rid of it.
LawnQuest has many years of experience providing the right moss treatment in Thurstaston and Irby suited to your lawn, whether its applying moss killer or lime combined with scarifying the lawn, we have got a range of treatments and techniques that we can use.
To find out more about our moss treatment in Thurstaston and Irby give LawnQuest a ring today on 0800 112 3970.
Lawn Cutting Service in Thurstaston and Irby
Are you a lawn friend who enjoys being out in the garden and likes mowing your lawn but doesn't have the time needed to give your lawn the attention it deserves, or are you a lawn stranger, someone who would really like a beautiful lawn but finds it too much like hard work? You're the person who sometimes gets the lawn mower out, but it can be a bit hit and miss because other things take priority. If you identify with either being a lawn friend or lawn stranger, then LawnQuest can help as we provide a lawn cutting service in Thurstaston and Irby.
In both cases it is often time and motivation that is the problem so let LawnQuest help with our lawn cutting service in Thurstaston and Irby. We have the time to come and visit you at your home and mow your lawn on a weekly basis during the summer. We also have the motivation, as we love what we do, and we love seeing and smelling a freshly cut lawn!
You may wonder if it really matters if you don't mow your lawn. Well, did you know that there are hormones in the tip of each blade of grass? These can suppress horizontal growth. When you mow the lawn, you are cutting the tips of the grass therefore getting rid of the hormones which in turn allows the grass to spread out sideways ensuring it can grow thicker around the roots. It's for this reason that while you might not have the time and motivation, it is vital that your lawn is mowed regularly. LawnQuest has the expertise to mow your lawn to the correct height with our lawn cutting service in Thurstaston and Irby.
To find out more about our lawn cutting service in Thurstaston and Irby, as well as any of our other services, give us a ring on 0800 112 3970.
Contact LawnQuest today
Contact us to request a free lawn analysis and quote.