From Lawn Scarifying, Lawn Aeration and Seeding, We Have it Covered!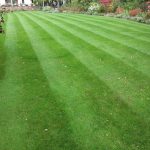 As a small but professional and well organised business, LawnQuest offer a personal service with great customer care. We can put in the time and effort required to achieve a lush green lawn. We also have the expertise and knowledge to assess a lawn and identify how we can improve the quality of the grass to ensure that it is healthy and weed free. Any persistent issues with common problems such as moss and thatch can also be treated quickly and effectively with our lawn treatments in Thornton Hough and Raby.
Over the years LawnQuest has invested in the very best equipment and lawn treatments in Thornton Hough and Raby. We will visit your home throughout the year at various intervals to apply seasonal lawn fertilizers. Along with these lawn treatments in Thornton Hough and Raby we will scarify and aerate your lawn. We will always recommend that your lawn has five seasonal treatments which address every aspect of the health of your lawn along with additional care that the grass would benefit from such as lawn scarifying, lawn aeration, seeding, top dressing and disease/pest control. To find out more about the range of treatments we offer give LawnQuest a call.
Sort Your Roots Out with Root to Tip Lawn Feed
If you know what products to use, treating your grass with a lawn feed can transform your lawn. The problem is that with so many products on the market, it can be difficult to know what to use, when to use it and how much to apply. Factors such as soil type, location of the garden and conditions associated with this such as shade as well as the weather can all have an impact on the health of your lawn. With years of lawn care experience, we know exactly which lawn feed to use and the optimum time to apply it.
LawnQuest will provide a comprehensive treatment package to care for your lawn including fertilising it, identifying pests and treating these, as well as providing moss treatment in Thornton Hough and Raby including scarifying your lawn to remove any moss, applying a moss killer and then clearing away the dead moss.
It's Not About Waving a Wand but Pushing a Scarifier!
Unfortunately, the UK provides perfect conditions for moss to thrive. Mild and wet winters, a shaded lawn and compacted soil are all factors that help the growth of moss. While you might think that there's only one type of moss, look a little closer at your lawn and you might see up to 30 different species of moss.
While there is no quick fix, March is a great time to start addressing problems with moss. With a moss treatment in Thornton Hough and Raby, we will apply it and you will notice that the moss turns from green to brown as the moss treatment in Thornton Hough and Raby takes hold and then the moss dies off.
Scarification is a great way to reduce moss and thatch that builds up over the year. What is a scarifier? It is a series of revolving vertical knives that cut and pull through the moss bringing it to the surface of the lawn allowing the moss to then be raked away. At LawnQuest we have all the equipment and treatments needed to rid your lawn of moss! To find out more about treating moss give LawnQuest a ring today.
Mow, Mow Mow Your Grass, Gently Down the Lawn
And so the children's rhyme goes (with a few slight changes)! "Life is but a dream" when you have someone else take the stress out of mowing your lawn. LawnQuest provide a lawn cutting service in Thornton Hough and Raby.
We provide a hassle-free service that is reliable and time saving for our customers. We will turn up at your home at a time convenient to you, once a week or fortnightly during the summer months, to cut your lawn. Using our lawn care knowledge, we will always cut the grass to the right length and keep it well maintained.
In the long term using a lawn cutting service in Thornton Hough and Raby will save you money. If left to do it themselves many struggle to keep on top of cutting their lawn especially if it needs mowing twice a week. In time this could come at a cost when your lawn falls into disrepair. Hiring LawnQuest for a lawn cutting service in Thornton Hough and Raby, on a regular basis, means you can enjoy your garden without feeling guilty for not looking after it yourself.
Contact LawnQuest today
Contact us to request a free lawn analysis and quote.