Give your Lawn the Wow Factor through Lawn Treatments in Thingwall and Gayton!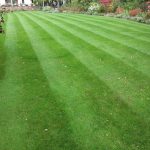 There are many factors that will influence how many times your lawn is treated during the year. The current condition of the lawn, the composition of the soil, the type of grass species as well as how much sunlight and shade the lawn gets are just a few of these.
Local knowledge and experience are also important because lawns can vary in different parts of the UK. With so much to consider it's best left to the experts to assess what lawn treatments in Thingwall and Gayton to use and to decide how many times your lawn should be treated through the year. That's where LawnQuest can help.
We can draw on our many years of experience to put together a lawn treatment plan that is tailored to the needs of your lawn. We will visit your home to make an assessment of the health of your lawn and factors influencing its condition.
We will only start the lawn treatments in Thingwall and Gayton when you are happy with our suggestions and have given us the go ahead. We can call at your home at a time convenient to you to apply the lawn treatments in Thingwall and Gayton. If you leave us with access to your garden, you don't even have to be at home! With our various lawn treatments, we will transform your lawn and give it the wow factor!
What is in lawn Feed that makes it so important to feed your lawn?
There are several key nutrients that make lawn feed a good addition to create or maintain a healthy lawn. Nitrogen provides the grass with protein which gives it the ability to grow strong and keeps it green. Without nitrogen over time it will turn yellow.
Potassium is also needed to help the grass grow, as it helps the lawn to become damage resistant and hard wearing despite weather conditions and use. Finally, Phosphorus helps each blade of grass to build a strong root structure.
All these nutrients are already in the soil, however they can be lost for a range of different reasons and that is why it is important to feed the lawns with a lawn feed in order to replenish them. When you give the grass lawn feed, the nutrients sink down into the soil and are gradually released as the soil weathers.
It's important to feed your lawn during the growing seasons between mid-March until the end of October. It's better to give your lawn a balanced programme throughout these months which provides your lawn with the nutrients it needs little and often, rather than a high level of lawn feed once a year. As an experienced and knowledgeable lawn treatment service, LawnQuest can provide you with reliable and well-informed advice about how to look after your lawn.
Remove the Moss and Re-Claim Your Lawn with Moss Treatment in Thingwall and Gayton
One of the best ways to treat moss is by lawn scarification. This involves dividing the grass from the moss by raking it. Scarifying your lawn will also help to remove thatch. While mosses are small, flowerless plants that grow in patches amongst the grass, thatch is an organic layer of dead shoots and roots etc that form between the soil and the grass. When there is thatch in your lawn, this will encourage moss to grow.
Eradicating the moss and thatch from your lawn will help the soil to be able to exchange gases and enable oxygen to get into the soil layers making it grow stronger and healthier. It will also help to improve water drainage and prevent algae forming. That's why, along with scarifying your lawn, it is so important to give it a regular moss treatment in Thingwall and Gayton.
LawnQuest have all the equipment and resources needed to banish moss and thatch from your lawn. As the first part of the process we will scarify the lawn and then apply a moss treatment in Thingwall and Gayton which is suited to the needs of your lawn.
Once a moss treatment in Thingwall and Gayton has been applied, we will revisit your home in a couple of weeks to rake up the dead moss. If there is still evidence of moss, we will apply another moss treatment and repeat the same process. Once the moss has been completely removed it is important to continue with a maintenance programme to ensure it does not grow back. To find out more about our moss treatments and maintenance programmes give LawnQuest a ring today on 0800 112 3970.
LawnQuest Provide a Lawn Cutting Service in Thingwall and Gayton for Small and Large Lawns.
There's a fine line between cutting your lawn just enough to ensure it grows back healthy and strong and too much that you decrease the health and vigour of the grass. At LawnQuest we have a wealth of experience cutting lawns and know exactly how short to cut your grass every time we visit in order to maintain a healthy lawn.
It's also important to consider when to start cutting and how regularly to cut. In early spring your lawn will only need to be cut fortnightly, however this should increase to weekly in late spring and early summer and the grass should be kept at 2.5 cm -4cm tall. However, areas of wear and tear and shaded areas will mean the grass needs to be kept a little longer.
Why not let LawnQuest worry about how regularly to cut your lawn and what length to cut it. Use our lawn cutting service in Thingwall and Gayton.
To find out more about our lawn cutting service in Thingwall and Gayton give us a ring on 0800 112 3970.
Contact LawnQuest today
Contact us to request a free lawn analysis and quote.