Your Lawn Will Come Up a Treat with Lawn Treatments in Tarvin and Tattenhall.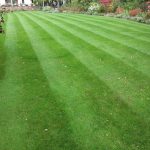 There's a saying "you are what you eat", well your lawn is what you feed it! A lush, green lawn doesn't just happen by chance it takes time and effort. Lawn treatments in Tarvin and Tattenhall are an essential part of garden care. Just as Doctors encourage us to look after our health by ensuring we get all the nutrients and vitamins we need, lawn care experts will tell you that your lawn needs to be fed key nutrients such as fertilizers throughout the year. But what do you do if you haven't got the time or know how to do this? That's when LawnQuest can help with our lawn treatments in Tarvin and Tattenhall.
At LawnQuest we provide a comprehensive programme of lawn treatments in Tarvin and Tattenhall which can be adapted to the needs of your lawn. Even the healthiest lawns need a little help to ensure they remain in good health.
That's because throughout each year your lawn has to undergo changes in the weather with temperatures fluctuating during each of the seasons. It also has to withstand different degrees of use with the footfall increasing in the summer months while people enjoy time outside.
LawnQuest will come and see you at your home and assess the condition of your lawn and then based on our findings we will recommend a series of treatments, some more seasonal and some to address specific problems such as moss or the various causes of lawn disease. We will only start the treatments once we have your agreement.
Improve the Appearance of Your Lawn with Lawn Feed
Part of our lawn treatment service includes regular applications of lawn feed which we recommend should be applied five times a year. There is a different lawn feed for each of the seasons. This is tailored to the needs of the grass at this time. For example, in the autumn your lawn needs time to repair and recover after heavy usage through the summer months, so higher levels of potassium are included in the lawn feed. In the spring the fertiliser applied is designed to encourage growth and so often contains more nitrogen. Factors such as moisture and temperature levels all have to be taken into consideration, so it's best left to the experts like LawnQuest to look after your lawn.
In order to ensure that we put the right amount of fertiliser down we will use a spreader. This helps to ensure it covers the surface evenly. Ideally it should be applied soon after the grass has been cut in order to give the grass more time to absorb the feed. We can work around when this might be and visit at an appropriate time.
We are happy to talk to you about the fertilizers we use and provide you with advice on suitable lawn care treatments to use on your lawn.
Beat The Moss Without Using Your Fists – Use Moss Treatments in Tarvin and Tattenhall.
Moss is the most common complaint we encounter at LawnQuest. That's because it typically thrives in the kind of climate and conditions found in most gardens in the UK. Moss loves damp and shady areas. However, moss is not the direct cause of these conditions, it actually grows as a result of thatch. So, what is thatch? It is the living and dead matter that can be found between the grass leaf and the root. Thatch is what provides the right conditions for moss to grow. That's why raking your lawn is not enough to get rid of moss. Your lawn should be scarified and aerated to remove the thatch. Treat the thatch and you get rid of the moss. To do this you need a professional to apply moss treatments in Tarvin and Tattenhall. LawnQuest have all the equipment and treatments to address the problem of moss and thatch with our moss treatments in Tarvin and Tattenhall.
To find out more about our moss treatments in Tarvin and Tattenhall, ring LawnQuest on 0800 112 3970 today.
Contact LawnQuest today
Contact us to request a free lawn analysis and quote.