Lawn Treatments in Seacombe and Wallasey Village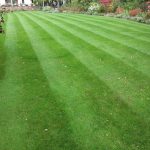 With Covid 19 keeping us all at home a lot more over the last few months, being able to spend more time in your garden is one of the few things that has made these strange times a little easier to deal with. However, being in one place for more time also means we become more aware of problems that need to be addressed.
You might have noticed your lawn is looking a little bare or where grass should be growing, it has now been replaced with moss. That's where LawnQuest can help with our lawn treatments in Seacombe and Wallasey Village.
Before recommending any lawn treatments in Seacombe and Wallasey Village we will visit you at your home and assess the condition of the grass in order to put together a treatment programme. We will take into consideration factors such as the composition of the soil, grass species within the lawn, the amount of sunlight and shade your lawn gets, as well as how much wear and tear it has. Once we have this information, we will suggest tailor made lawn treatments in Seacombe and Wallasey Village to match the specific needs of your lawn. We can also suggest more general seasonal lawn treatments.
For a Lush Lawn Give Your Grass Lawn Feed
Many people ask, how many times should my lawn be treated during the year? The answer is, it depends on the grass, however if your lawn is reasonably healthy, gets plenty of sunshine and experiences a low amount of wear and tear, it will usually need 4-5 treatments per year. We will apply a lawn feed each time that is based on the seasonal requirements of the grass.
LawnQuest would generally recommend a spring lawn treatment such as a slow release fertliser that will help the grass to recover after the winter. Why should it be slow release you might ask? Because the nutrients won't all be taken up by the grass plant providing a sudden lush boost exhausting all the nutrition. Spring is also a great time to get to grip with controlling weeds. The plants grow faster so the herbicide is absorbed quicker.
A spring lawn feed should be followed up with an early and late summer treatment. In addition an autumn and winter lawn treatment is essential. It's important that your lawn is looking lush and dark green during the winter months because it is often the main source of colour in your garden. Applying a winter lawn feed which contains iron is a great way to strengthen the grass to ensure it is able to combat the growth of moss.
Addressing the Common Causes of Moss with a Moss Treatment in Seacombe and Wallasey Village
Nearly every lawn in Britain will at some point experience the growth of moss. Our damp climate is partly to blame as well as the lack of sunlight, but while we can't control the weather, there are things we can change in our garden to make it harder for moss to grow.
If you have trees growing in your garden, make sure the branches are at least two metres above the lawn and if there is a thick canopy it will need thinning out. The same is true with bushes, hedges and plants. Reducing the shade on the lawn and ensuring plenty of light gets onto the grass will help the grass grow stronger and more able to combat moss growth. As part of our moss treatment in Seacombe and Wallasey Village these are all things that LawnQuest can advise you on.
Applying a moss treatment in Seacombe and Wallasey Village just before the winter months will also ensure you have a better chance of controlling the growth of moss when the grass is at its most vulnerable. LawnQuest can visit your home at a time convenient to you during the Autumn to disperse the moss treatment in Seacombe and Wallasey Village onto your lawn.
Don't Upset Your Neighbours, use our Lawn cutting Service in Seacombe and Wallasey Village
Is 7am too early to start mowing your lawn? Most would say yes, it is! The less noise the better is what most would want when waking up and especially on a Sunday, and yet that's the day most people decide to mow their lawn as it's their only free time.
If you are struggling to find time to mow your lawn and don't want to annoy the neighbours, ask LawnQuest to do it for you with our lawn cutting service in Seacombe and Wallasey Village. We can visit at a time that is convenient to you, in fact if you leave us access to your garden, you don't even have to be at home!
As part of a lawn cutting service in Seacombe and Wallasey Village, we will visit your home on a weekly or fortnightly basis. We will initially assess the condition of the grass and then recommend the correct cutting height which can change over the summer months. The height of the lawn should be reduced by one third each time it is mowed, all too often people cut their lawns too short, we won't make that mistake!
To find out more about our lawn cutting service in Seacombe and Wallasey Village call LawnQuest today.
We have been told so many times that being outside and closer to nature is a great way to de-stress. However being in your garden and looking at yellow, patchy lawn could potentially make you more rather than less stressed! That's why having regular lawn treatments in ….. essential both for your health and your lawn!
Contact LawnQuest today
Contact us to request a free lawn analysis and quote.