Lawn Treatments in Runcorn and Widnes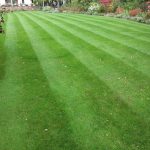 4 Steps to a Healthy Lawn – Assess, Advise, Treat, Repeat
Assess
LawnQuest will visit you at your home and analyse the condition of your lawn assessing its appearance, identifying any potential problems and the causes, such as moss, fungal diseases or insect infestations.
Advise
We are constantly keeping up to date with new products that are being developed. We will recommend the best treatments in order to restore your lawn back to good health. If it is already in good health, we will ensure that this is maintained with or lawn treatments in Runcorn and Widnes.
We will put together a programme that is tailored to your lawns needs. Included in this will be seasonal treatments as well as lawn treatments to specifically target any problems that your lawn is experiencing. We will talk you through the best ways of caring for your lawn in between our visits.
Treat
We will discuss our proposed lawn treatments in Runcorn and Widnes. Once we have your agreement, we will arrange a suitable time to visit your garden and start the treatments. We will visit Spring, Early Summer, Late Summer/Autumn and Winter. During each of our visits, as part of our lawn care programme, we will apply a fertilizer and a weed killer, applying slow-release nutrients that improve and maintain the growth of the grass.
Repeat
One of the integral elements of a healthy lawn is consistency. Regular visits at key times of the year are vital. As a result, we will visit throughout the year at ongoing intervals to provide your grass with lawn care. Feeding your lawn regularly will help it grow strong and make it better able to combat disease. We can adjust our lawn care programme as your lawn grows.
Would You Like To Find Out More about LawnQuest Lawn Care?
To find out more about the range of services we provide and our lawn treatments in Runcorn and Widnes call 0800 112 3970.
Moss Treatments in Runcorn and Widnes.
Most lawns in the UK have moss. That's because this country provides moss with the perfect weather conditions. However, it's not an insurmountable problem, especially if you call upon a lawn care professional who provides moss treatments in Runcorn and Widnes. That's when LawnQuest can help.
We can tailor a programme of moss treatments in Runcorn and Widnes that includes initially raking the lawn, or scarifying as it is known as, to remove as much moss as possible, followed by the application of a moss killer with further raking a couple of weeks later to remove the remaining dead moss. We have all the tools required to do this as well as well as suitable products that are harmful to moss but not people and animals.
Once the lawn has been cleared of the moss, further moss treatments in Runcorn and Widnes might be needed in order to restore the grass back to health, such as aerating the lawn, reseeding bare batches as well as top dressing. These are all recommendations that LawnQuest will make as and when they are necessary.
Give Your Lawn A Simple Makeover with our Lawn Cutting Service in Runcorn and Widnes.
No one likes to look out of the window and see an overgrow, unkempt lawn, but mowing your lawn to keep it neat and tidy and in good health takes time. Added to this, the task of clipping the edges of the lawn, clearing away the grass cuttings and maintaining the lawn mower, make it even more time consuming. So, if you want a great looking lawn for the Summer but haven't got the time to do it, call LawnQuest.
We provide a lawn cutting service in Runcorn and Widnes throughout the summer months and will visit your home once a week to mow the lawn. We will ensure that every time we visit it involves minimum disruption to you and your family. If you would prefer, as part of our lawn cutting service in Runcorn and Widnes, we can visit while you are out as long as we can have access to the garden.
Drawing on our years of experience we also know what height to cut the grass to. In order to promote healthy growth, we won't generally take off any more than 1/3 of the grass with our lawn cutting service in Runcorn and Widnes. To find out more about grass cutting, give LawnQuest a ring.
Contact LawnQuest today
Contact us to request a free lawn analysis and quote.