If you want the Perfect Lawn, don't just hope for the Best – Get LawnQuest! We provide Lawn Treatments in Poulton and Pulford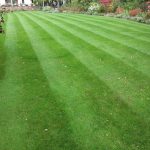 Drinking alcohol just wouldn't be the same without grass! That's because a lot of alcoholic beverages are made using grains from various different grasses! However, before you go thinking about setting up your own distillery in the garden it's probably best to focus on simply keeping your lawn in tip top condition, so bring the experts in to help you with this. For lawn care and lawn treatments in Poulton and Pulford that's where LawnQuest provides a reliable and professional service.
From spring to winter we have got it covered with a comprehensive range of lawn treatments in Poulton and Pulford. This includes applying a spring fertiliser as early as March as well as lawn feed throughout the summer. From May through to October we can sow or overseed if you have bare patches of grass. While in August and September we will apply a slow-release fertiliser to strengthen the grass ready for the winter.
Along with our lawn treatments in Poulton and Pulford, there are also simple steps you can take to look after your lawn and complement the treatments that LawnQuest provides. For example, In the summer months mow your lawn once a week and throughout the Autumn regularly remove fallen leaves as they can cause disease if left to rot and in the winter months avoid walking over your lawn in order to avoid compaction and frost scorching.
If you want to find out more about any of the lawn treatments that LawnQuest offers, give us a call on 0800 112 3970.
Boost the Growth of your Grass with a Lawn Feed
Whether you have a small or substantially sized lawn, the grass will need the same level of care and attention. Giving the grass regular lawn feed is an essential part of this as it provides your grass with all the nutrients that it needs to thrive. It encourages growth in the summer months but helps to bolster it in the winter against the cold weather and frosts.
Lawn feed, otherwise known as lawn fertiliser, can be a complicated business. That's because with so many different fertilisers available, it's difficult to know which one to use. It's also difficult to know just how much to apply as well as when the best time to apply it is.
Why not take the stress out of it by having LawnQuest look after your lawn. We know exactly what lawn feed to use and when to use it. We use products that offer varied levels of nutrition. We also schedule into our treatment programme, exactly the right time to apply it. We can start the process as early as Mid-March for the first feed.
At LawnQuest we keep up to date with the very latest products and use only the best on your lawn. For your peace of mind, the products that we use are also safe around children and pets.
Moss Treatments in Poulton and Pulford – A Three Step Programme
Something that can have the biggest impact on the health of your garden is moss. Much like the common cold affects all of us at some point, moss is a problem that affects most lawns. That's because in England, the weather creates ideal conditions for moss to grow. So how can you combat this? At LawnQuest we would recommend raking the lawn as the first part of our moss treatments in Poulton and Pulford. This method will remove some of the moss. For a small sized lawn, we use a wire spring bok or fan rake but for larger lawns a scarifier works best.
Once we have removed as much moss as possible, we will than apply a moss killer as the next stage of the moss treatments in Poulton and Pulford, which we leave to do its work on the grass for two to three weeks. During this time the moss dies off turning from green to black.
After the moss has died, the third part of the process involves raking the dead moss up and disposing of it. These three steps will probably have to be carried out several times before you are left with a moss free lawn, however with persistence it will work.
To find out more about our various moss treatments in Poulton and Pulford give LawnQuest a call today.
Contact LawnQuest today
Contact us to request a free lawn analysis and quote.