A Lawn Treatment Programme Tailored to the Needs of Your Lawn! Help Your Lawn to Thrive with Lawn Treatments in Port Sunlight and Spital.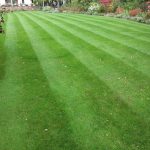 Your lawn will not thrive if it doesn't have the right balance of nutrients. If you don't give your grass lawn treatments in Port Sunlight and Spital, earlier in the year, by the time you reach the summer months and are spending lots of time in the garden, your lawn will be looking patchy, brown and sad. Rather than then having to work hard to restore it back to a lush green colour, it's better to have a simple but regular feeding routine for your lawn with lawn treatments in Port Sunlight and Spital provided by LawnQuest.
In the Spring, your lawn is waking up and to help prepare it to thrive through the spring and summer months, lawn treatments in Port Sunlight and Spital are essential. It's also important to feed your lawn in the early summer so that it can be strong enough to withstand, heat and drought.
LawnQuest can help and advise you about what lawn treatments to use, how much to apply and when to apply the treatments. We will then do the work for you, visiting your home at specific intervals throughout the year to apply the lawn treatments. It couldn't be easier!
More isn't always better!
Did you know that it is possible to over treat your lawn with lawn feed? Giving the grass too much fertiliser, particularly in sandy soils, can result in the excess lawn feed seeping out into the groundwater, lakes and streams! It's also important not to overapply lawn feed to shady areas. While it might be tempting to give more fertilizer to help the grass grow, it will actually kill it faster!
With so many factors to think about, instead of being a pleasure tending to your garden, it can become stressful. But you don't have to worry about how much or how little lawn feed to give your grass as this is something LawnQuest has the knowledge and skills to advise you about, so leave it to the experts.
Getting Rid of Moss, the Easy Way with Moss Treatments in Port Sunlight and Spital
Most of us will find moss growing in our garden, but what causes it you might ask? There are several different reasons, most notably having compacted soil which makes it difficult for grass to grow but allows moss to take root. Poor drainage can also be a contributing factor as well as too much shade or a lawn that hasn't been fed enough.
If your garden has succumbed to moss, it's important to address it promptly before it spreads out of control. There are different ways to remove moss. This might involve using a moss killer or using a combined feed, weed and moss killer. At LawnQuest we know what moss treatments are best and will use one that is suited to the needs of your lawn as part of our moss treatments in Port Sunlight and Spital.
To prevent moss from returning and alleviating the problem and as part of moss treatments in Port Sunlight and Spital, aeration should be carried out in the Spring and Autumn. Feeding your lawn in the Autumn can also help it to grow thick and strong making it better able to combat moss invasion. These are all treatments that LawnQuest can carry out saving you time and money in the long term.
Reliable and Regular Lawn Cutting service in Port Sunlight and Spital
Did you know that you should never cut your grass too short and that not every grass type should be cut to the same length? Depending on the type of grass, it will have its optimal cutting height so it's important before mowing your lawn to find out what this is. The grass blade is where all the food and nourishment is kept and cutting this back too far means the short blades can't generate as much food. Having long blades of grass also keeps the soil cooler making it harder for weeds to sprout. That's why it's best to use a professional lawn cutting service in Port Sunlight and Spital.
It's also important to never mow your lawn in the same direction but to alternate it such as front to back, back to front and even diagonally. Why should you mow your lawn like this? Because varying the way you mow the grass stops the grass blades from growing at an angle which could create permanent mowing tracks. With so many things to think about, while it may seem a simple task, to cut your grass properly takes not just time but thought and preparation, so leave it to LawnQuest. We provide a lawn cutting service in Port Sunlight and Spital.
Contact LawnQuest today
Contact us to request a free lawn analysis and quote.