Look After your Lawn with Lawn Treatments in Pensby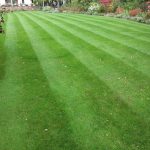 Throughout the year there is much work to do in a garden and while sometimes we might tend to concentrate on the borders making sure that they are well stocked, thriving and bringing lots of colour through the different seasons, the lawn might be ignored. However, having a lush green lawn can perfectly complements the rest of the garden, while sparse or patchy grass can detract from it. That's why it's important to look after your grass and having lawn treatments in Pensby is important.
LawnQuest provide a range of lawn treatments in Pensby tailored to the needs of the grass and soil and we take into consider other conditions in your garden that can affect the lawn. We will visit at key times throughout the year to apply lawn treatments in Pensby to ensure that the grass is kept healthy and that weeds are banished!
Feeding your lawn with a lawn feed is an important part of the process as it helps to prevent weeds and moss from growing. Where possible LawnQuest will visit at the optimum times to apply fertilizers, for example when the soil is moist or when rain is expected. At LawnQuest we will regularly visit your home and check on your lawns health to make sure that it is kept in tip top condition. This may mean applying additional lawn feed if the grass starts to lose its freshness between late Spring and late Summer.
Moss Treatments in Pensby
Very few gardens have the perfect conditions in fact, the conditions in most gardens mean that moss more easily grows than grass, making moss one of the most common problems for any lawn. If you have a garden that has a lot of shade it can become even more of a headache. That's why interventions such as moss treatments in Pensby are vital.
As part of our moss treatments in Pensby, the first step LawnQuest will take is to rake up any moss in your garden using a lawn scarifier. The aim is to remove as much of the moss as possible before applying a moss killer which is applied and left for a couple of weeks before raking again to remove the dead moss. We will often give your lawn a lawn feed to help the grass replenish itself. To find out more about moss treatments in Pensby give LawnQuest a ring.
Don't let your Lawn Grow Wild, use our Lawn Cutting in Pensby.
Throughout the summer your lawn mower should not be left idle in the garage, it should be out cutting the grass weekly. If knowing this makes you feel stressed because you haven't got time to mow your lawn even once in the week, let LawnQuest cut your lawn with our lawn cutting in Pensby.
Why is a lawn cutting in Pensby important? Because a regular lawn care routine will ensure that the grass is kept at the right height to allow it to grow properly throughout the summer. While some ornamental grasses are meant to grow tall, generally speaking most turf grasses need to be mowed regularly in order to maintain a healthy root system and that where LawnQuest can help with our lawn cutting in Pensby.
Contact LawnQuest today
Contact us to request a free lawn analysis and quote.