Care for Your Lawn with Lawn Treatments in Oxton and Upton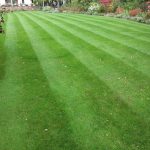 Lawn Quest provides a comprehensive range of lawn treatments in Oxton and Upton that can be tailored to the needs of your lawn. To decide what type of lawn treatments in Oxton and Upton would be appropriate, we will visit your home and carry out a thorough examination of the grass to assess what condition it is in.
It could be that your grass is generally in good condition and just needs a little care and attention to ensure that its lush, green, healthy appearance is maintained. Alternatively, if there are any ongoing issues such as moss or thatch, we can put together a series of lawn treatments in Oxton and Upton to address them.
We provide our lawn treatment services to both domestic and commercial customers and will always ensure that you have a beautiful lawn to look at, whether it is outside your kitchen/dining room window or if it's your work place, that you can enjoy looking at your lawn from your office window.
We generally recommend 5 lawn treatments per year in order to apply seasonal lawn feed, however if there are other issues with your lawn that need to be addressed we are likely to visit your home or business on a more regular basis until the problems are resolved, for example this might involve applying moss killer. In addition, other treatments such as scarification and aeration might be needed.
Is Lawn Feed Really Necessary?
Most of us generally get by without taking any additional vitamin tablets. However, it is understood that taking vitamin supplements can improve our health and also help to ward off any potential viruses. It's exactly the same with lawn feed, most lawns will grow quite well without any additional help, but if you want to enhance the look of your lawn even more by improving it's health and ensuring that in the future it does not succumb to common lawn problems like moss, a lawn feed will help your lawn stay healthy and in good condition.
Applying a lawn feed can also help the turf to recover from the effects of wear and tear over the summer months or harsh weather conditions. Lawn Quest can put together a balanced nutrient programme to keep your lawn strong and avoid it becoming patchy and thin. This can also be a preventative measure, stopping moss and weeds from growing. So, if you want to achieve having a healthy lawn or maintain an already strong, lush lawn, LawnQuest can help.
Moss Treatments in Oxton and Upton
Moss can be caused by a range of factors including, most commonly, poor drainage and shade. To address the problem there are two approaches included in LawnQuests moss treatments in Oxton and Upton. The first is to remove the moss and second is to stop it coming back.
To remove the moss the lawn should be scarified which involves raking over the lawn to remove the moss and thatch. If it's a small garden, we might use a rake but with larger gardens we have a mechanical scarifier which makes the whole process much quicker and easier.
Where there isn't a lot of moss scarifying might be the only thing needed but if it is a bigger problem, as part of our moss treatments in Oxton and Upton we might apply a moss killer and then to ensure the moss doesn't return, add a lawn treatment such as a fertilizer to help the grass grow strong enough to discourage moss from growing again.
Other ways to ensure the moss does not return include aerating the lawn by coring the soil at regularly intervals and then over seeding and adding a lawn top dressing. Carrying out these three steps can reinvigorate the grass making it harder for moss to grow. These are all moss treatments in Oxton and Upton that LawnQuest can use on your lawn.
Save Yourself Time With our Lawn Cutting Service in Oxton and Upton
There are many reasons why it is important to have a lawn cutting service in Oxton and Upton. Firstly, mowing your lawn keeps the grass at the appropriate length. However, when it is carried out effectively the lawn density also increases which makes it more difficult for weeds to take hold. In the long term regularly mowing your lawn helps it to become low maintenance and more drought tolerant.
The problem with mowing your lawn is having the time to do it, especially in the summer months when it will need cutting at least once a week. Summer is the time when people often go on holiday or take time off from work while the kids are on school holidays which makes finding the time to mow your lawn even harder!
That's where LawnQuest can help. We provide a lawn cutting service in Oxton and Upton. We will arrange to visit at a time and on a day convenient to you. If you provide us with access to your garden, you don't even have to be at home!
If you want to be able to look out of your window and see a beautifully manicured lawn, use our lawn cutting service in Oxton and Upton and give LawnQuest a ring today on 0800 112 3970.
Contact LawnQuest today
Contact us to request a free lawn analysis and quote.