Bring about some Lawn and Order in Your Garden with our Lawn Treatments in Northwich!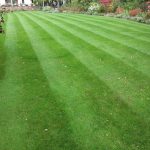 A lawn over run with weeds and covered in moss with brown or bare patches is not a pretty sight. On the other hand, a well-established and a well-maintained garden can add value and appeal to your property. So, giving your lawn the care it needs can be time consuming but worth it in the long run!
Buying all the right lawn care products can also be expensive, and sometimes frustrating if you don't feel you are getting the results you expect. Working throughout the Cheshire area, LawnQuest specialise in lawn maintenance and grass treatment.
We will visit you at your home and assess your lawn, discussing and recommending various cost-effective lawn treatments in Northwich that will suit the needs of your lawn. As a family run business you can expect personal and professional lawn treatments in Northwich.
Don't take our word for it. We have a loyal customer base who we have worked with for years, check out some of their comments on our testimonials page.
For your reassurance, due to the nature of our work, we can carry out our wide range of lawn treatments in Northwich without having any direct contact with our customers during the pandemic.
When is the Best Time to Apply Lawn Feed?
Part of our lawn treatment programme includes applying lawn feed regularly throughout the growing season. Its purpose is to ensure that the grass grows healthy making it more able to combat weeds. It's a fact that the stronger the grass, the less likely there are to be weeds so in the early and late spring we will apply an appropriate fertilizer. This is also a great time to aerate the lawn.
Throughout the year, the needs of the grass change and so should the fertiliser, so applying a different fertiliser during early summer can assist with leaf development. Modifying the lawn feed in middle of the summer when the grass plants begin their reproduction cycle is also important. With the arrival of autumn and as the temperatures start to cool down the grass needs a different mix of nutrients as weeds can be a particular problem at this time of year.
At LawnQuest we continually reassess our lawn feed programme to meet the needs of your lawn. Our extensive experience has taught us that your lawn thrives when it receives numerous fertilizer treatments. To find out more give us a ring on 0800 112 3970.
What's Involved with Moss Treatments in Northwich?
Scarification is an essential part of moss treatments in Northwich. It is the process used to remove layers of excess plant material usually referred to as Thatch. If this builds up around the base of the grass it can suffocate the plant, restricting its growth. Scarification will remove Thatch and Moss allowing the grass to increase its density. It will also allow water into the soil to the roots of the plant.
Aeration of the lawn is always carried out alongside scarification as part of our moss treatments in Northwich. This is done by creating channels in the soil in order to allow air, water and nutrients to penetrate into it. It reduces soil compaction which can be contributed by mowing, walking and other activities on the lawn. The best time to carry out these kind of moss treatments in Northwich is during the late spring and early autumn.
At LawnQuest we are qualified and licensed to provide weed and moss control and apply lawn fertiliser as well as carry out processes such as aeration and scarification.
Contact LawnQuest today
Contact us to request a free lawn analysis and quote.