Good Bye Brown, Yellow Lawns, Hello Lush Vibrant Green Lawns with Lawn Treatments in Noctorum and Willaston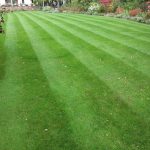 Do you ever look in the gardening magazines and see endless examples of beautiful green healthy lawns? If you do, you might find yourself comparing them with your own lawn which might be a little brown, yellow or patchy. That's when LawnQuest can help.
If the grass in your garden has changed colour or is bare in places, it could be for a range of reasons. It's either had too much water or heat or alternatively not enough water or nutrients. If you have pets it might be that if they pee on the grass, that can affect the PH balance of the soil!
As part of our lawn treatments in Noctorum and Willaston, one of the things we recommend is regular aeration of your lawn (hollow-coring or spiking). This is essential for that deep, vibrant green grass you see in the garden magazines.
Included in LawnQuest lawn treatments in Noctorum and Willaston is regular time set aside to aerate your lawn. We can also over-seed and fill patchy areas to encourage new grass to grow.
Look After Your Lawn with a Lawn Care Programme
During the spring and summer months your lawn is actively growing. It's throughout these months that it is essential the grass gets the right lawn care. LawnQuest will provide your lawn with lawn feed suited to the summer months. This will encourage it to grow strong and healthy and combat weeds and moss. We also give the grass lawn feed tailored to its needs at other key times of the year.
We can advise you on the right lawn feed for your lawn depending on the type of grass you have, soil and seasonal conditions, and the lawns site, for example the amount of shade it receives.
Moving into the autumn months as part of our lawn care programme, LawnQuest will visit your home and check for signs of damage to your lawn. This is usually caused by the increased amount of use the garden has had during the summer months. With our years of experience, we can identify any issues and treat the problem promptly to limit any further damage. Included in the lawn care we provide are moss treatments in Noctorum and Willaston.
Reclaim Your Lawn from the Moss with Moss Treatments in Noctorum and Willaston
For most people moss is a reoccurring problem in their garden and once established it can be like wading through treacle to get rid of it! That's where employing the services of a lawn care professional will save you time and money.
At LawnQuest we understand three basic factors as part of moss treatments in Noctorum and Willaston – we know how lawn moss grows, we know how to control it, and we have the expertise to prevent it from growing back.
How Moss Grows – Moss doesn't process water and nutrients in the same way other plants do so normal weed killers won't kill moss. Understanding what conditions encourage moss to grow is an integral part of treating moss. Moss loves shaded areas with acid soil, whereas grass fails to grow in conditions like this. Alter the conditions and you can limit moss growth and encourage grass to grow.
How to Control Moss – The best time to apply moss treatments in Noctorum and Willaston is when it is growing which is usually during the autumn, winter and early spring when it is damp and cold. A product that has ferrous sulphate in it is ideal as it draws out the moisture and dry's the moss up turning it black.
Preventing Moss – If the soil is too acidic, adding lime will reduce this. Try to improve areas of your lawn that have poor drainage. This can be addressed by thinning out trees and shrubs and aerating the areas of the lawn that are compacted.
All of the factors can be resolved with our moss treatments in Noctorum and Willaston. Call LawnQuest today on 0151 355 7696.
A Sign of Summer is a Lawn Cutting Service in Noctorum and Willaston!
It's a known fact that regularly mowing your lawn in the summer months will keep your grass healthy and looking gorgeous and just as having your hair cut strengthens it, so to cutting your lawn helps it to grow stronger. Another reason to mow your lawn regularly is that it helps to combat pests and weeds.
The problem is while you might understand why you need to mow your lawn regularly, in reality having the time to do it is another matter. That's where LawnQuest can help. We provide a lawn cutting service in Noctorum and Willaston.
LawnQuest will visit at a time convenient to you once, or if necessary, twice a week, during the summer to mow your lawns. During the warmer months grass grows at a much faster rate so using our lawn cutting service in Noctorum and Willaston really does take the hassle out of it for you.
To find out more about our lawn cutting service in Noctorum and Willaston give us a ring at LawnQuest on 0151 355 7696.
Contact LawnQuest today
Contact us to request a free lawn analysis and quote.