Get "Green Green Grass" with Lawn Treatments in Neston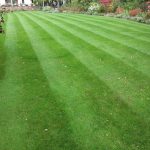 Tom Jones famously sang about the "Green Green Grass of Home." Wales and by extension the rest of the UK is known for having green and verdant rolling countryside. It's because of this that we might have a romanticised vision of how lush and green our lawn should be. However, if Tom Jones was singing about your lawn would he have changed the lyrics to the brown, brown, brown grass of home?
Achieving and maintaining a healthy, green lawn takes effort and time which is something most of us don't have. If your lawn doesn't get enough time and attention and a little loving care, then untreated problems such as weeds and moss will start to appear and can eventually kill off the grass leaving you with an unsightly lawn! That's where LawnQuest can help. Instead of you having to find the time, let us take the time.
With our range of lawn treatments in Neston, LawnQuest will ensure that you have a healthy lawn all year round. To maintain a healthy lawn, we will make regular visits to your home and apply timely lawn treatments in Neston to keep the grass in good condition.
We can also tailor the lawn treatments in Neston to the type of grass that you have growing in your lawn and the soil conditions that it is growing in. Part of the programme of treatments also includes aerating your lawn to ensure that the air is able to circulate in the soil and that there is good drainage and nutrient absorption. This all contributes to a healthy lawn.
Promote a Healthy Growing Lawn with Lawn Feed
An essential part of maintaining a healthy lawn is to give it lawn feed regularly. This is because it provides the grass with the nutrients that it needs not just to survive but to thrive.
At LawnQuest as part of our treatment programme we will apply a lawn feed that is a slow-release fertilizer. Applying this ensures that the grass is able to grow strong and healthy. Using a nitrogen fertilizer enables the roots of the grass to push down further into the soil giving each blade of grass more stability. The stronger each blade of grass is the more able it is to withstand attacks from moss and weeds. That's why it is important to use a lawn feed.
With our many years of experience in lawn care, LawnQuest knows exactly what treatments to apply and when. We can also address specific issues that you might be having with your lawn and applying treatments tailored to this. We have cared for lawns at residential properties, offices and commercial outlets.
Rid your Lawn of Moss with Moss Treatments in Neston
Moss is a problem that can affect most lawns throughout the UK. Even if you live in a stately home with acres of manicured lawns you can't escape it. That's because this country provides the perfect growing conditions for moss. So, what's the answer?
The best approach is prevention rather than cure. Keeping your lawn in good condition will go a long way to limit moss growth. Regularly aerating your lawn, which involves perforating small holes in the soil to allow air, water and other nutrients in, can help. Doing this ensures that the soil has good drainage, and that the lawn doesn't become waterlogged. In turn this allows the roots of the grass to be able to absorb nutrients enabling the grass to grow more vigorously which in turn chokes out any attempt by moss to take hold. Aerating your lawn is something that we provide as part of our moss treatments in Neston.
Even the healthiest grass can still succumb to moss but don't worry, at LawnQuest we have a range of moss treatments in Neston designed to kill off moss. What does this involve? During the autumn months we will visit your home and scarify the lawn and rake out as much moss as we can. We will then apply a moss killer which attacks and kills any moss that has been left behind. This two-pronged approach makes sure that no moss escapes.
As the moss treatments in Neston start to work the moss will begin to turn black which can then be promptly raked up and removed about two to three weeks after the moss killer has been applied. We then recommend that a fertilizer is used to help the grass recover.
Keep Your Grass Under Control with our Lawn Cutting Service in Neston
During the summer months grass can grow at such a fast rate that it requires cutting at least once a week. Smelling cut grass is something that we associate with the summer but the effort it takes to produce this from mowing the lawn isn't always realistic when you have so many other things vying for your time. It's a time-consuming job and can be one that drops down the list of priorities. That's where LawnQuest can help. We offer a lawn cutting service in Neston.
Is mowing tall or short better for the roots? How short should you do the first cut of the season? How often should the grass be cut. These are all questions we regularly get asked.
You may think, does it really matter how short you cut the grass or how long your leave it. In answer, yes it does. Cutting it too short can injure the crown where new growth happens, and the nutrients are stored. This makes the lawn more susceptible to pests and disease. In contrast, leaving your lawn to grow too long will make it harder to cut when you come to mow it and can create an inconsistent appearance.
At LawnQuest we have the knowledge and know how to mow your lawn at the right time and to the right length with our professional lawn cutting service in Neston. So let us take the stress out of mowing your lawn. Give us a ring at LawnQuest and find out more about our lawn cutting service in Neston.
Contact LawnQuest today
Contact us to request a free lawn analysis and quote.