Get "Green Green Grass" with Lawn Treatments in Neston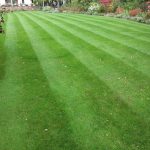 Tom Jones sang about the "Green Green Grass of Home", but do you look at your lawn and see anything but green? Would you be singing about yellow, yellow grass or brown, brown grass? Achieving a lush looking green lawn takes effort and time because if left alone pesky problems such as moss and weeds will appear and can eventually out compete the grass! That's where LawnQuest can help.
Providing a range of lawn treatments in Neston, LawnQuest will ensure that you have a healthy lawn throughout the year. We will make regular visits to your home to keep the grass in good condition using our various seasonal lawn treatments in Neston. We can also tailor the lawn feed that we use to the needs of the grass and soil and can introduce other specialised lawn treatments in Neston if your lawn is experiencing particular problems. Part of the programme of treatments also includes aerating your lawn to ensure that the air is able to circulate in the soil and that there is good drainage and nutrient absorption.
At LawnQuest as part of our treatment programme we will apply a slow release fertilizer in order to help your grass grow strong and healthy. Using a balanced fertilizer including potash, phosphate and Nitrogen will encourage the roots of the grass push down further into the soil giving each blade of grass more strength. This in turn means that the grass is more capable of withstanding attacks from moss and weeds. That's why it is important to use a lawn feed. Don't try to do all the work yourself, use LawnQuest. We have years of experience caring for lawns whether at residential properties or offices and commercial outlets.
Rid your Lawn of Moss with Moss Treatments in Neston
Moss can be a tricky problem to get rid of so it's better to take steps to prevent it from appearing in the first place. Keeping your lawn in good condition will help. Giving your grass lawn feed, aerating it and maintaining good drainage are all steps that can be taken to keep moss away. However, even after these steps are taken, moss can still grow but don't worry because at LawnQuest we have a range of moss treatments in Neston designed to kill off the moss.
The best time to apply moss treatments in Neston is during the Autumn. LawnQuest will scarify the lawn and rake out as much of the moss as possible. Following this we will then cover the lawn with a moss killer to kill off any remaining moss. The moss killer contains sulphate and iron. You know when it's working because the moss will blacken and then can be removed by raking again about 2-3 weeks later. To help your lawn recover after the moss treatments in Neston, we recommend that a fertilizer is used to help the grass recover.
Keep Your Grass Under Control with our Lawn Cutting Service in Neston
Mowing your lawn can be a time-consuming job. While it's great seeing a well-kept lawn and smelling cut grass, sometimes looking after your lawn is not high on the list of priorities when so many other things demand your time. That's where LawnQuest can help. We offer a lawn cutting service in Neston.
With many years of experience looking after lawns across the Wirral, we have the knowledge and know how to mow your lawn at the right time and to the right length providing a professional lawn cutting service in Neston.
While it may seem simple to cut grass, cutting it too short can injure the crown where new growth happens, and the nutrients are stored. When the grass is too short it can also make the lawn more susceptible to pests and disease. On the other hand, if you don't mow the lawn regularly enough the blade of the mower rips rather than cuts the grasses leaving you unsightly lawn. In addition, it makes it more difficult in the future to cut and if left to grow tall it also grows thin giving an inconsistent appearance. Take the stress out of mowing your lawn and contact LawnQuest today about our lawn cutting service in Neston.
Contact LawnQuest today
Contact us to request a free lawn analysis and quote.