Don't Leave Your Lawn Bare – Apply Lawn Treatments in Landican and Leasowe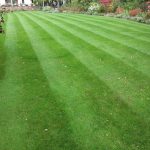 If you are local to Landican on the Wirral, you may be aware that it is famous for its European Brown Hares. Because of this, the area has even featured on programmes such as Countryfile and The One Show and been visited by many naturalists over the years. Sadly, the Hares are on the decline however, if you live in Landican you might find one in your garden from time to time. A sight less rare than a Hare is LawnQuest in your garden!
Unlike Hares that will leave your grass bare, at LawnQuest we provide a range of lawn treatments in Landican and Leasowe that will help it to thrive and flourish. We will visit 5 times a year in order to apply a seasonal treatment. The lawn treatments in Landican and Leasowe that we use include both fertilizer and weedkillers. In addition, if your lawn has specific problems for example, it is experiencing a particular disease or pest, we will put together other lawn treatments specifically tailored to address these. We also carry out other processes such as aeration and scarification.
As a family run business, we offer consistency and continuity as well as the personal touch. From the initial phone call, planning a course of lawn treatments in Landican and Leasowe, through to the regular visits to your home, you get to deal with the same person every time. To find out more call 0800 112 3970.
Relax in the Knowledge That Your Lawn is Getting the Best Lawn Feed
At LawnQuest we recognise that no two lawns are the same. It is never a case of one size fits all or in this instance one type of lawn feed suits every lawn. It can vary from one lawn to the next. One course of treatment might help a lawn to grow healthy and strong but do nothing or even damage another. As a result, each lawn has to be assessed individually. We will visit your home to do this and based on our findings we will then recommend a lawn feed.
We will always ensure that the lawn feed we apply has all the right nutrients that your grass needs. That's why it is always important to bring in the experts to look after your lawn. We will care for your lawn with professionalism, applying the skills, knowledge and expertise that we have acquired over the years.
Reduce and Eventually Eradicate Moss with Moss Treatments in Landican and Leasowe
There are numerous problems that your lawn can experience but of all of them, moss is the most common. It is the bane of every gardener's life, not just on the Wirral but up and down the country!
Poor surface drainage is a factor that can cause moss. The wet lawn surface encourages fern and tufted mosses to sprout. Another common cause of moss is an infertile lawn. If the grass is deficient of essential nutrients, it will become weak and won't be able to combat moss and other pests. That's why we always say prevention is better than cure. Keeping your lawn healthy by applying regular treatments and feeding it with fertilizers will help to limit moss invasion. However, if it succumbs to moss, we can apply regular moss treatments in Landican and Leasowe.
With the correct moss treatments in Landican and Leasowe, LawnQuest will restore your lawn to great condition. While there is no such thing as a quick solution we will gradually reduce and eradicate the moss in your lawn.
During the autumn and winter as well as the early spring, your lawn is at it's wettest and this is when we focus our efforts applying moss treatment in Landican and Leasowe. We will scarify the lawn to remove as much moss as possible and then apply a moss killer that usually contains iron sulphate to kill off the remaining moss, we leave it a couple of weeks and then scarify the lawn again. This process will need to be done several times, but you should start to see an immediate improvement. To find out more give us ring today.
Spruce Up Your Lawn with our Lawn Cutting Service in Landican and Leasowe
From mid-March onwards your grass should be cut every week. If you have a busy schedule that can be quite a commitment of time especially, if you have a medium to large sized lawn. That's where LawnQuest can help. We provide a lawn cutting service in Landican and Leasowe. We will visit your home once a week from mid-March right through to the end of the summer to cut the grass.
In addition to being able to regularly cut your lawn, we also know and understand the more scientific side of mowing a lawn. For example, the ideal height to cut your lawn can vary depending on the growing conditions of the grass as well as the amount of use it gets throughout the year. Most lawns have an ideal height, but this can be raised or lowered. Mowing grass too short can weaken it allowing weeds to grow. As part of our lawn cutting service in Landican and Leasowe we can advise you on this.
If you would like to find out more about our lawn cutting service in Landican and Leasowe give LawnQuest a ring on 0800 112 3970. We look forward to hearing from you.