Lawn Treatments in Crosby and Liverpool at Affordable Prices!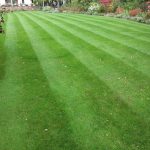 With so much more time being spent at home and staycations the most realistic option for a holiday, most home owners are now more than ever, keen to spend a little more money on their garden. A good starting point is to get your lawn in tip top condition. This doesn't just mean turning your attention to it in the summer months but requires caring for your lawn throughout the year. That's where LawnQuest can help. We provide a range of lawn treatments in Crosby and Liverpool.
While there are seasonal lawn treatments in Crosby and Liverpool that should be applied, as a minimum, at specific times throughout the year, no two lawns are the same and the grass that grows in your garden will have different needs and requirements. As a result we can tailor our lawn treatments in Crosby and Liverpool to suit these.
As part of our lawn care programme, we will also identify and address issues with moss, weeds and other problems such as lawn disease. With our years of experience in lawn care we know what products to use and when to use them. We keep up to date with the latest developments in lawn care products and ensure we use the best available. We also only ever use lawn treatments that are safe around children and pets.
Lawn Care that Keeps Your Lawn Looking Healthy All Year Round
We also have a range of techniques at our disposal, that when applied, can help to fortify your lawn and ensure that it stays healthy all year round. Some of these techniques might include hollow tine aeration, top dressing and levelling and turf replacement. We will always discuss with you our recommended treatments and get your agreement before carrying out any work.
So, if you live in Crosby, you might be next to the sea but don't be all at sea when it comes to knowing how to look after your lawn, let LawnQuest take care of it. Our lawn care service is flexible, so we can visit at a time that is convenient to you, in fact if you allow us access to your garden, you don't even have to be at home!
As a small family run business, you can expect a personalised service with the same person doing the work every time rather than a stranger. We feel this is essential as we are visiting you at your home. You need to know and trust us and feel comfortable with us in your garden. We have many happy customers who will vouch for the fact that we are trustworthy and reliable.
The Last Enemy of Your Garden, Moss, will Be Done Away, with Moss Treatments in Crosby and Liverpool!
It's a fact that moss can grow on any type of soil. That's because they have shallow roots that hold the moss in place without drawing nutrients from the soil. They make their own food through photosynthesis. This makes moss a common problem for most lawns and a persistent one at that!
A traditional way of eliminating moss from your lawn is to apply iron sulphate, or you can add lime to the soil to make it less acidic, which discourages moss from growing. Alternatively, you can rake the moss out. These are all options we use as part of our moss treatments in Crosby and Liverpool.
As part of our moss treatments in Crosby and Liverpool, we will often include a fertiliser. This will help the grass to grow back strong once the moss has been treated. It will also ensure that it regains its vigour.
Getting rid of moss takes time and effort but to prevent it from returning takes even more time and effort as your lawn needs to be well maintained. Let LawnQuest help. To find out more about the full range of moss treatments in Crosby and Liverpool that LawnQuest provides, please give us a ring on 0800 112 3970.
Contact LawnQuest today
Contact us to request a free lawn analysis and quote.