Is your Lawn All At Sea? Try Lawn Treatments in Hoylake!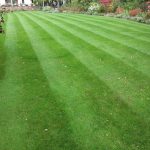 Living in Hoylake means living either next to or near the sea. While being near the sea can be invigorating, for coastal gardens the salty air can create problems that make sustaining a healthy lawn difficult. The sea salt can burn the tips of the grass blades changing the colour and appearance of your lawn. At LawnQuest we have the skills and expertise to advise you on the best treatments to tackle this.
Feeding Your Lawn – Lawn treatments in Hoylake
55 degrees Fahrenheit is the magic number when it comes to applying lawn feed! This is the temperature that the soil should have reached before it's given fertiliser. But how can you measure the heat of the soil? A good indication is when the lilac starts to blossom, and the grass starts to grow. This generally happens around March-April and this is the time that LawnQuest can visit your home with our lawn treatments in Hoylake.
As part of lawn treatments in Hoylake, a balanced feed including micro nutirients should always be included. These are the main ingredients for your lawn feed and are a good mix to use in the Spring. We will ensure even coverage of these treatments on your lawn as we have the appropriate equipment and resources to do this. As part of a regular garden maintenance programme that LawnQuest offers that is tailored to your needs we will visit your home on a regular basis throughout the year to provide various lawn treatments in Hoylake that also suit the seasons. We can provide specific advice on feeding your lawn and keeping it in good condition.
Banish the Moss – Moss Treatment in Hoylake
If you want to have a happy, healthy lawn that grows thick and strong it's important that you remove moss that might be present. While it may not be impacting on the appearance of your lawn at the moment, in the future, if left untreated, the moss will start to make your lawn look bad. As specialists in lawn care, LawnQuest know what to do and when to do it to rid your lawn of moss with our moss treatment in Hoylake.
The best time to treat moss is during the Spring and Autumn months. Especially in the Autumn your lawn needs to be treated with care as it will be recovering from wear and tear during the summer. Kids playing on the lawn and summer evenings spent enjoying a barbecue, are just a couple of the activities that mean your lawn gets used a lot more during the warmer weather. All of this can take a toll on your lawn and so it's health must be encouraged and maintained to ensure it stays strong during Winter through the frosts. Using a moss treatment in Hoylake can prevent future problems with moss and treating your lawn with a lawn feed can also help.
A Cut Above the Rest! Lawn Cutting Service in Hoylake
One of the easiest and most effective ways of having a healthy lawn is to mow it regularly, that's why LawnQuest provide a lawn cutting service in Hoylake. Mowing your lawn promotes growth, however, never underestimate the importance of mowing it properly as getting it wrong can be damaging to the grass. Mowing a lawn too short, cutting the grass with dull blades or not mowing the lawn regularly enough can all lead to problems. With our lawn cutting service in Hoylake let LawnQuest take care of mowing your lawn. We know how high to set the mower, when it's the best time to mow the lawn, as well as what direction to cut it.
Mulching and Recycling grass cuttings. Did you know that rather than clear away and dispose of grass clippings, they can be left on the lawn as they can return nutrients into the soil? With our lawn cutting service in Hoylake we can discuss mulching the clippings on the lawn on your request or are happy to clear them away.
For further information about moss treatment in Hoylake as well as lawn feed, give LawnQuest a ring on 0800 112 3970.
Contact LawnQuest today
Contact us to request a free lawn analysis and quote.