ALawn Treatments in Holmes Chapel and Knutsford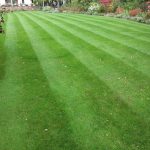 Are you having problems with your lawn? Is the grass overrun with chafer grubs or have you got an infestation of leatherjackets? Before you decide to re turf contact LawnQuest. We have been professionally treating lawns for many years giving us the experience and know how to address and solve a range of lawn issues.
You may already have a healthy lawn and simply want to maintain the health and condition of it but are finding it too time consuming. We can save you the time and effort needed to keep a green, lush lawn by providing lawn care. We work throughout Cheshire and offer lawn treatments in Holmes Chapel and Knutsford.
We can start our treatments at any time of the year, so if you have decided that you need lawn treatments in Holmes Chapel and Knutsford, don't wait, get in touch today. We will arrange an initial visit to assess the condition of the lawn and health of the grass. If it is in good health, we will suggest treatments to ensure that this continues however, if your lawn is affected by a particular pest or has become diseased, we can diagnose this promptly and put together a plan to address it. We don't work on the basis that one size fits all, instead we will put together a tailor-made lawn care programme.
Our lawn treatments in Holmes Chapel and Knutsford can include fertilising and weedkilling as well as more specialist procedures such as aeration, scarification.
Why apply lawn feed to your lawn?
One reason is because every time you mow your lawn you remove a lot of plant material and stored food. This needs to be restored and lawn feed can help to do this. Most lawn feed contains Nitrogen which is important for cell formation and grass growth, Phosphorous for food production and rooting and Potassium which is involved in the process of photosynthesis. There are also secondary nutrients that are contained in lawn feed such as calcium and magnesium.
With our lawn care programme, we will ensure that our lawn gets the correct amount of nutrients throughout the year to ensure it is fertile during every season. If fertilising and weed control is not sufficient, we will apply other treatments to address specific problems. We are always happy to advise you on pest related problems.
Moss treatments in Holmes Chapel and Knutsford
Have you tried raking your lawn manually to get rid of dead thatch and moss only to find that it is still thriving? Scarifying your lawn is a better way to assist to deal with the problem. This should be done while the grass is growing such as in the spring or autumn. That's because it can be stressful for your lawn and could take longer to grow once it has been treated.
While this is a good start, scarifying is not enough on its own and so a moss killer should be applied. We usually apply the moss killer between 7-21 days before the lawn is then scarified.
As part of our moss treatments in Holmes Chapel and Knutsford we can carry out all the necessary procedures to ensure we banish the moss. However, achieving a moss free lawn is only the first step, you then need to stop it from coming back! The moss treatments in Holmes Chapel and Knutsford that LawnQuest provide can do this. Aerating the lawn can provide better drainage preventing water logging. If necessary, the aerated holes can be filled with sand to stop the soil filling them back in. Applying a lawn feed at this time will also help the grass grow thicker.
To find out more about our moss treatments in Holmes Chapel and Knutsford give us a ring on 0800 112 3970.
Contact LawnQuest today
Contact us to request a free lawn analysis and quote.