Turn Your Neighbours Green with Envy and Your Lawn Too with Lawn Treatments in Heswall?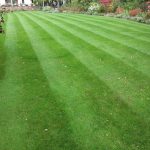 Having a balanced diet with lots of vegetables, fruit, grains and protein is widely recognised as an integral part of keeping healthy and it's no different with our lawns. To ensure that they maintain good health throughout the year they require the right nutrients. This includes key ingredients such as nitrogen, potassium and phosphorus.
Just as important when applying lawn treatments in Heswall is the timing of when you feed your lawn as applying them at the wrong time could have little or no impact on fertilising the grass. However, with so many fertilisers to choose from, all of which do different things, and the having to apply them at different times, knowing what to choose and having the time to apply them, can be challenging. That's when having LawnQuest to help you choose and apply lawn treatments in Heswall can really make a difference.
The first step is to assess the health of your lawn. To do this we will visit you at your home and evaluate the grass and the soil. Based on the results we will put together a treatment plan with recommendations of what nutrients are needed to ensure a lush, vibrant lawn, based on the soil type, weather conditions, location and other factors. We will also advise you on the right amount of lawn feed that should be used.
Lawn Feed – An Integral Part of a Lawn Treatment Programme!
The lawn treatments in Heswall that LawnQuest provide, include a range of different fertilisers to ensure that the grass plants receive the right amount of nitrogen, phosphorus and potassium. Getting the right nutrients accelerates grass growth. It becomes a deeper green and looks healthier. It also helps the grass grow stronger, enabling it to withstand potential damage from moss, weeds and disease.
Just as with a healthy diet it is important to eat regularly rather than miss meals, the same is true of feeding your lawn. Grass that does not receive a regular intake of nutrients will be weak and its growth stunted. At LawnQuest we understand this and so will make time throughout the year to apply lawn feed on a regular basis. The condition of your lawn as well as the time of year will dictate what lawn feed we give the grass plants.
During the spring and summer months we are likely to use a lawn feed that contains slow-release energy, so the grass plants are fed over a longer period of time, usually 12 – 16 weeks. This keeps your lawn in tip top condition nurturing the lawn slowly and steadily but with minimum input and so minimum disruption to you. We can combine this with a quick release fertiliser that lasts for up to 6 weeks, giving it a real boost. On the other hand, an autumn lawn feed when applied will target moss growth that could otherwise spread in the damp, wet conditions during the winter. This treatment will also strengthen the grass plants to ward off disease.
Tackling Moss with Moss Treatments in Heswall
A moss free lawn is something that most gardeners will aspire to. However due to the ideal conditions that the UK provides for moss growth, to keep your lawn free of it requires a lot of time and effort. Instead of tackling it yourself, let LawnQuest take the stress out of having and maintaining a moss free lawn!
As part of our moss treatments in Heswall we will assess your lawn and identify the underlying conditions that are causing the problem. This is essential because unless this is corrected, the problem will keep returning.
Once we have identified the cause we will put together a plan to tackle the problem. This could include a variety of moss treatments in Heswall including one of the most effective methods – scarification. We will scarify the lawn using a rake or lawn scarifier to loosen the moss and then dispose of it. Application of a moss killer follows this and then after a couple of weeks we will return to rake up and remove the dead moss.
Once we have eradicated the moss, we will also take steps to prevent it from returning. For example, something as simple as spiking the soil with a garden fork or hollow-tine lawn aerator will help to improve drainage which in turn will restrict the growth of moss. In addition, enabling your lawn to access as much sunlight as possible to keep the soil surface dry can help, so cutting back trees and shrubs will improve the conditions.
If you wish to find out more about the moss treatments in Heswall that LawnQuest provide, give us a call on 0800 112 3970. We look forward to hearing from you.
Find Your Stripes with our Lawn Cutting Service in Heswall
Cutting your grass to the correct height will encourage it to grow more thickly and will keep it healthy. On the other hand, if the grass is too short or too long, moss will easily start to spread. That's why, while it may seem a simple task, mowing your lawn is an essential one. The question is, how short or how long do you cut the grass? That's where LawnQuest can help with our lawn cutting service in Heswall. Based on our years of experience we know exactly what height to cut the grass to.
Another factor is time. Many of us struggle to fit in all the tasks we need to do around the house and garden. However, our lawn cutting service in Heswall can take the stress out of mowing your lawn, giving your one less thing to worry about. We can be on hand throughout the summer growing season on a weekly or fortnightly basis to come and mow your lawn. So, if you are either a commercial or domestic customer, we will provide you with a professional lawn cutting service in Heswall.
Contact LawnQuest today
Contact us to request a free lawn analysis and quote.