How Green Does Your Garden Grow, with Lawn Treatments in Heswall?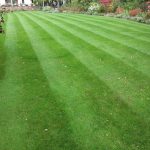 It is widely understood that one of the best ways to stay healthy is to have a good, balanced diet. It's just the same for our lawns, to keep them healthy and vibrant they need to be fed the right nutrients. It's important these nutrients are given at the right time in order to fertilise the grass plants. With a range of fertilisers to choose from, all of which have their own key features, it can be difficult to know what to choose for lawn treatments in Heswall, that's where LawnQuest can help.
We will visit you at your home and assess your lawn and the soil. We will make various recommendations regarding the appropriate course of treatment, matching the soil type, prevalent weather conditions and seasons, to the nutrients needed to ensure a healthy, lush lawn. We will also give advice on the right quantities that should be used to feed the lawn.
Feeding Your Lawn – Lawn Treatments in Heswall
Using lawn treatments in Heswall such as fertilisers will ensure that the grass plants get the correct nutrition that they need, making the grass grow stronger and thicker. As part of lawn treatments in Heswall, fertilisers can also combat the potential for moss, weeds and disease.
Just as a lack of food can negatively impact on a person's health, grass that is starved of nutrients will be weak and its growth will be stunted. At LawnQuest we can apply lawn feed to your lawn. This can vary depending on the season. For example, in the Spring and Summer a lawn feed that contains slow release energy to feed the grass for several months can be spread over the lawn, then in the Autumn a lawn feed can be applied that is specifically designed to help the grass to strengthen over the winter and control existing moss, that could otherwise spread in the damp, wet conditions during this season.
Having a moss free lawn is something that many households aspire to but can be very difficult to achieve without a lot of time and labour. Let LawnQuest take the stress out of having and maintaining a moss free lawn!
Tackling Moss with Moss Treatment in Heswall
We will identify the reasons why there is moss in your lawn and then use various moss treatments in Heswall to get rid of the moss and prevent it from returning. As part of the moss treatments in Heswall we will scarify the lawn using a rake to loosen the moss and then remove it from the lawn. LawnQuest will then apply moss treatments in Heswall to burn off the moss.
Killing the moss is just one part of the process as it's important to change the grass growing conditions to limit the reappearance of moss. At LawnQuest we will identify the cause of the moss growth with a view to improving the soil conditions to limit new growth. Something as simple as hollow-tine lawn aerator will help to improve airflow which will in turn restrict the growth of moss. Similarly, ensuring plenty of light is getting into your garden will help to dry out the soil surface, so cutting back branches on trees and reducing the height of bushes and hedges will help with this.
If your lawn is prone to moss and every option has been explored to try to prevent it, reseeding your lawn with a shade tolerant grass seed could be an option. LawnQuest has the knowledge and experience to advise you about this.
Finding Your Stripes – Lawn Cutting Service in Heswall
Did you know that ensuring your grass is cut to the correct height can limit the growth of moss? LawnQuest provide a lawn cutting service in Heswall. This is available throughout the summer growing season on a weekly or fortnightly basis. Based on our years of experience we know exactly what height to cut the grass to. Whether you are a commercial or domestic customer we will provide you with a professional lawn cutting service in Heswall.
So, for moss treatments in Heswall or a lawn cutting service in Heswall along with a range of other lawn care services, give LawnQuest a ring today on 0800 112 3970.
Contact LawnQuest today
Contact us to request a free lawn analysis and quote.