What to Expect with our Lawn Treatments in Helsby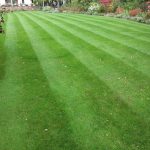 Have you ever cooked a lovely meal and then tasted it, only to find there was something missing? You had forgotten to add the salt! Just as salt enhances the flavour of a meal, the same is true with your lawn. A beautiful garden with well-established trees and thriving shrubs might be things you have worked hard to achieve but if your lawn is looking bedraggled and unhealthy, instead of enhancing your garden it can detract from it.
Trying to eliminate weeds and moss along with a whole host of other problems that your lawn could experience, can feel like a thankless task. It's hard work and it seems endless! So, is there a solution? Yes! The good news is that LawnQuest offer a comprehensive range of lawn treatments in Helsby. It includes everything you need to banish the unsightly moss and weeds from your garden. After just a few treatments you will notice a difference! You can expect the grass to be transformed into a healthy, vibrant lawn!
Drawing on our many years of experience, LawnQuest will provide reliable and informed advice on the type of lawn treatments in Helsby that should be used on your lawn, applying our expertise and knowledge to tailor a lawn treatment programme that's right for your lawn.
We will provide the appropriate care at the right time for the grass throughout the seasons. For example, during the Spring and Summer months your lawn is active and growing quickly so giving your lawn a Spring or Summer lawn feed will provide enough fertiliser to help to keep the grass competitive as well as limit potential weed and moss growth in the future. Spring is also the ideal time to over-seed any patchy areas which might have been damaged over the winter, this is a service we provide.
Lawn Quest will visit your home and put together some recommendations for a Spring and Summer lawn care routine having assessed and evaluated the condition of your lawn. Once agreed we will visit your home and give your lawn the care and attention that it needs ensuring it is kept in perfect condition with the lawn feed we use!
Effective Moss Treatment in Helsby!
You could be mistaken for thinking that moss kills grass, it doesn't. However, when moss is prevalent in your lawn, it indicates that your lawn isn't in good condition and lead to additional problems. That's because all the factors that cause moss to thrive are things that grass hates, such as lack of natural light and damp. Feeding your lawn strengthens it, making it more able to combat weeds and moss. However, it is inevitable that at times weeds and moss will arise and so it is vital to not delay and act quickly to stop it from spreading.
If you have a problem with weeds taking over your lawn, we advise applying a lawn weed killer. This is systematic fast acting and will quickly treat the weeds bringing under control. On the other hand, to treat moss a moss killer such as ferrous sulphate is the ideal treatment to apply. This has to be spread uniformly across the whole of the lawn. At LawnQuest we have the right products and equipment to provide moss treatments in Helsby.
Having treated 100's of lawns over the years and having acquired a wealth of experience doing this, LawnQuest knows the optimum time to apply moss treatments in Helsby during the Spring and Autumn months. Ensuring that the health of your lawn is maintained throughout the Autumn months will in turn help it to endure the harsh winter months. In addition, we know when the ideal conditions are to apply moss treatments in Helsby – when it is damp, as this will enable the moss killer to penetrate into the moss.
Mowing the Lawn, no longer a Chore with our Lawn Cutting Service in Helsby!
Mowing your lawn regularly is one of the most important tasks that needs to be carried out to ensure your lawn is healthy and looking its best. As the weather warms in the Spring the amount of times the lawn needs to be mowed will increase as grass growth speeds up. That in turn brings its own problems as it can be difficult to find the time to mow the lawn as regularly and consistently as it needs. At LawnQuest we can take the stress out of mowing your lawn with our lawn cutting service in Helsby.
You might not know it but there is actually a lot more to mowing your lawn than simply cutting the grass with a lawn mower. It's important that the grass is cut to the right height throughout the Spring and Summer. The height that it is cut to can vary depending on how much use the lawn gets. Similarly, taking too much off its first cut of the year can be damaging. It's important to get it right because cutting it too short and you risk weakening the grass which will encourage moss and weeds to grow. On the other hand, leaving it to grow too long and the grass will form clumps and the stems become woody and the grass pushes out a seed head. This creates patchy areas. Using our lawn cutting service in Helsby gives you peace of mind knowing that the grass will be cut to just the right height and as regularly as needed.
To find out more about our lawn cutting service in Helsby as well as our lawn treatments in Helsby give us a ring today.
Contact LawnQuest today
Contact us to request a free lawn analysis and quote.