What to Expect with our Lawn Treatments in Helsby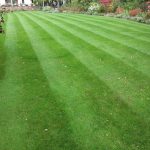 You may have a garden that has beautiful borders, well established trees and a lovely patio and your lawn should complement these. However, trying to rid your lawn of weeds or moss can feel like swimming against the tide. It's hard work and it seems endless! The solution? LawnQuest offer a comprehensive range of lawn treatments in Helsby to banish the unsightly moss and weeds from your garden. With just a few treatments we can transform the grass into a healthy, vibrant lawn!
At LawnQuest we can advise you on the type of lawn treatments in Helsby that should be used on your lawn, drawing on our expertise and knowledge to provide the right care at the right time for the grass. For example, during the Spring and Summer months your lawn is active and growing quickly. As a result, it is important that this is maintained and encouraged by regular feeding with lawn treatments in Helsby such as a fertilizer. Fertilizing your lawn with a Spring or Summer lawn feed will help to improve keep the grass competitive and limit future weed and moss growth. Spring is also the ideal time to over-seed any patchy areas which might have been damaged over winter which is a service we provide.
At Lawn Quest we can put together a Spring and Summer lawn care routine where we will visit your home and give your lawn the care and attention that it needs ensuring it is kept in perfect condition with the lawn feed we use!
Effective Moss Treatment in Helsby!
While moss doesn't kill grass, its presence is an indicator of the condition of your lawn. A well-fed lawn is better able to combat weeds and moss more than one that's not looked after, however inevitably at times weeds and moss will become a problem and it's important to act quickly to prevent the spread. We would recommend that if you only have weeds, a lawn weed-killer will quickly treat them or alternatively for moss a moss killer such as ferrous sulphate. This has to be spread uniformly across the whole of the lawn. LawnQuest has the products and equipment to provide moss treatments in Helsby.
Based on our years of experience with moss treatments in Helsby we know that the best time to treat moss is during the Spring and Autumn months. It's important that the health of your lawn is maintained in the Autumn to ensure it can withstand the harsh winter months. In addition, the ideal time to apply moss treatments in Helsby is in damp conditions as this will ensure the moss killer will penetrate into the moss.
Mowing the Lawn, no longer a chore with our Lawn Cutting Service in Helsby!
One of the most important tasks that needs to be carried out to ensure your lawn is healthy and looking its best is regular mowing. As the weather warms up this might need to be done once a week or even more frequently. This problem is finding the time to mow the lawn as regularly as it needs it. At LawnQuest we can take the stress out of mowing your lawn with our lawn cutting service in Helsby.
There is also much more to mowing your lawn than simply going over it with a lawn mower. The grass should be kept at the same height throughout the Spring and depending on how much use your lawn gets the height you cut to can vary. It's important to get it right because cutting it too short and you risk weakening the grass which will encourage moss and weeds to grow. Our lawn cutting service in Helsby will ensure that the grass is cut to just the right height and as frequently as needed.
To find out more about our lawn cutting service in Helsby as well as our lawn treatments in Helsby give us a ring today.
Contact LawnQuest today
Contact us to request a free lawn analysis and quote.