Ensure a Healthy Lawn with Lawn Treatments in Hale Barns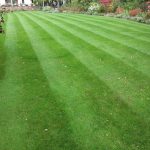 With the onset of autumn and winter you could be forgiven for thinking that there won't be much action with your lawn. To an extent this is true, however grass growth slows down, it doesn't completely stop it is just not putting energy into photosynthesis. It slows down due to the drop in the soil temperature but as the temperature rises again in the spring and summer, grass growth speeds up. Why is this important to know? Because it is a reminder that your lawn needs ongoing care and attention whatever the season.
Grass is a vital part of our eco system and essential for life. Knowing that should motivate us to look after our lawns. That's where LawnQuest can help. We provide a comprehensive range of lawn treatments in Hale Barns throughout the year and tailored to the seasons.
As part of the service we offer, we will visit your home and evaluate the condition of the grass and identify any problems effecting its health. With our many years of experience in the lawn treatment industry we can quickly identify what your lawn needs and put together a programme of lawn treatments in Hale Barns to invigorate the grass. Following this we will provide you with a no obligation quote.
If you decide to use our services involving lawn treatments in Hale Barns, we will visit you at a time convenient to you to apply the various products and fertilizers. If we can have access to your lawn, you don't even have to be at home!
5 Is The Magic Number with Lawn Feed
Consistently applying a lawn feed for up to five times during the year will help it grow strong and more able to fight weed infestation. We ensure that we use only the safest and most reliable lawn feed products that are safe around children and pets.
LawnQuest are trusted by our clients to look after their lawns, which is reflected by the fact that a lot of our new business comes via recommendations and referrals. Whether it is a small plot or a large lawn we will use a lawn feed appropriate to the needs of your lawn. If you want to find out more about the services we provide, give us a ring on 0800 112 3970.
Autumn and Winter Can Only Mean One Thing and that's Moss Treatments in Hale Barns!
As the dark nights draw in you could be forgiven for forgetting about your lawn. However, it just as important to look after your lawn throughout the autumn and winter as the spring and summer. That's because damp conditions and a lack of light can lead to moss and fungus as well as other problems. That's why moss treatments in Hale Barns are essential.
Between the months of November and February LawnQuest will visit your home and apply a winter treatment. This is a liquid product which is designed to target moss as well as provide essential nutrients to help combat fungal disease.
If your lawn has moss, scarification is the best way to treat it. It involves using a scarifier to remove thatch and moss that builds up. While it is one of the more aggressive methods of moss treatments in Hale Barns and can in the short term make the grass look unsightly, in the long term it will transform it and improve the health of the grass by removing the moss. We usually carry out this treatment in the autumn and spring.
As part of moss treatments in Hale Barns we also carry out hollow tine aeration, which is a machine application that aerates the soil, relieving compaction and reducing sub surface thatch. This prevents the build-up of moss meaning that scarification is less likely to be required in the long term.
All of our lawn treatments are built around our objective which is to get the best out of your lawn.
Contact LawnQuest today
Contact us to request a free lawn analysis and quote.