Green Up Your Grass – Lawn Treatments in Frodsham!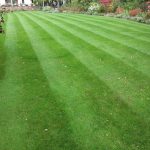 Would you like to be the envy of your neighbours and have the greenest lawn in your neighbourhood? There are several ways that you can achieve this. However as with most things it takes time, effort, and hard work, and when life is so busy and hectic with work and family responsibilities, even finding an hour a week to work on your lawn can be a challenge. That's where at LawnQuest we can take the stress out of looking after your lawn with our lawn treatments in Frodsham.
We provide a comprehensive range of lawn treatments in Frodsham to ensure your lawn is well maintained, and happy. An essential part of this is healthy soil. An integral part of achieving this is by regularly aerating your lawn. This involves aerating by removing hundreds of cores into the ground to help provide the soil with good air circulation and improve the grass roots water and nutrient consumption. This is essential in Spring and Autumn because over time the more use your garden gets the more the soil is compacted. Added to this, every time you mow your lawn, the soil is compacted even more. Issues with air circulation, water drainage and nutrient absorption can all arise from having compacted soil. To green up your grass and make the turf healthier it's important to regularly aerate your lawn. However, it can be labour intensive but that's where LawnQuest can help as we have the equipment to make this a quick and easy process, saving you time!
Another key ingredient to assist with the health of your soil is to regularly apply a slow-release fertiliser at key times throughout the Spring and Summer. A slow-release fertiliser containing some Nitrogen will help the grass to thrive supporting healthy balanced growth. Nitrogen is one of the elements that all living things need in order to grow so this kind of lawn feed will encourage the roots of the grass to reach further down into the soil making them stronger and more able to withstand weeds and moss. As an additional lawn treatment in Frodsham your lawn may require phosphorus and potassium, but this is usually dependent on where you live and what the soil is like in your area. At LawnQuest we can help and advise you about this and will tailor our lawn treatments in Frodsham to the needs of your lawn.
It's likely that at the end of the summer your lawn will have experienced all the effects of kids, pets and garden furniture on it. In addition, changeable weather with dry days and the inevitable downpours that we experience over the summer months will take their toll on the grass. As a result, moving into Autumn your lawn will be feeling tired and worn down. That's why an Autumn lawn feed will help to revitalise it. The lawn feed will help the grass to toughen up for the winter preparing it for the harsher weather conditions.
Prevention is Better than Cure – Moss Treatment in Frodsham
Keeping your lawn healthy and the roots strong will make it harder for weeds to grow. Similarly, giving your lawn the right care and attention will mean that you won't have patchy areas or bare spots where grass won't grow but where weeds will thrive. If you do experience bare patches on your lawn we can easily and effectively resolve this at LawnQuest by a combination of raking the lawn, loosening the soil, spreading the grass seeds, raking again and then watering the area.
Improving the health of your lawn will also help to keep moss at bay. Feeding your lawn, aeration and maintaining good drainage are all factors that can make a positive difference. However, even with all the right care and attention your lawn could still succumb to moss but don't panic, at LawnQuest we know exactly what to do and offer a complete range of moss treatment in Frodsham.
Scarification is the first step which should be carried out in the Autumn as part of moss treatment in Frodsham. Depending on the size of your lawn, we have a selection of equipment that we can use to rake out the moss. Once we have removed as much as possible, we will then apply a moss killer to the remaining moss. This usually contains sulphate of iron. This will cause the moss to blacken and then after 2-3 days or sooner, then it can be raked again, removed and disposed of.
To help the grass to grow back healthy and strong once the moss has been treated, we recommend applying a fertiliser to help reinvigorate your lawn. If necessary, we will also apply a top dressing and overseed. Following this process of moss treatment in Frodsham will restore your lawn to tip top condition.
Save yourself Time with our Lawn Cutting Service in Frodsham
Leaving your grass to grow too long can make the whole garden look untidy and unkempt. It can also lead to sparsely covered areas or bare patches. Not only is it aesthetically better to mow your lawn, but more importantly, cutting it regularly will help it to grow more thickly which in turn improves its health. In the long run this creates a lush green appearance.
Mowing frequency, cutting heights and lawn mower maintenance are all an integral part of looking after your lawn. Keeping on top it can be a challenge as the grass grows so quickly, sometimes within days, and so can then look like it's never been cut. The problem is that finding the time to do all of this as regularly as is needed during the Spring and Summer months can be difficult especially because there are so many other things that demand our time!
LawnQuest are here to help. We offer a lawn cutting service in Frodsham. We have the expertise and experience to know when to start mowing your lawn as well as how short to cut your lawn each time we mow it. While leaving the grass a little longer initially for the firsts few cuts may mean it has to be mowed again within a few days, leaving the grass blades longer means they can grow and support more roots and develop a deeper root system so it's important not to cut the grass too short. At LawnQuest we can advise you on when and how to cut your lawn. Our lawn cutting service in Frodsham is professional and reliable.
Mowing your lawn regularly will keep it neat and tidy which in turn improves your living environment. It also keeps the grass healthy, giving it the ability to grow strong. Maintaining your lawn will not only improve the appearance of your property but your neighbourhood too!
To find out more about any of our services including lawn treatments and our lawn cutting service in Frodsham, give us a ring today.
Contact LawnQuest today
Contact us to request a free lawn analysis and quote.