When is a Weed Not a Weed? – When it Grows Where You want it To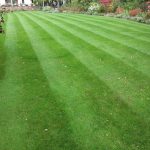 With the onset of Spring, grass grows more vigorously but so do weeds such as daisies and dandelions. While they can look pretty and attractive swaying in the wind in fields, they are not always as welcome on a lawn where they can suffocate the grass! As a result, it is important that your lawn is given the right amount of nutrients to help to maximise its growth and control the spread of weeds. You can achieve this with LawnQuest and our lawn treatments in Frankby and Greasby
Weeds are persistent invaders of a garden and if left untreated will grow back which can cause a headache for you. Let LawnQuest effectively care for your lawn with a range of lawn treatments in Frankby and Greasby to ensure your lawn is kept in tip top condition. If grass is healthy it will limit the growth of weeds minimising their ability to take hold.
At LawnQuest, we apply lawn treatments in Frankby and Greasby which includes a specialised lawn feed which helps to control the growth of weeds. We will analyse the grass and soil and tailor a lawn treatment package around the needs of your lawn.
Get a Lawn that Looks Like a Wimbledon Tennis Court but without the White Lines
There's no doubt that to have a lawn that looks as green and lush as a tennis court at Wimbledon takes a lot of time and effort. Neil Stubley is the head groundsman for the All England Tennis Club and he says that the "key to a healthy lawn is hydration, light, air and feeding" so as part of every lawn care package LawnQuest offers, it includes applying lawn feed at specific intervals throughout the year.
Treating your grass to a good helping of lawn feed will increase its vigour and help to prevent weeds and moss from springing up. Just like humans, grass needs the right amount and type of nutrients to grow and survive, if not the grass will show signs of becoming thin and yellow!
A good lawn feed will include nutrients such as phosphorus and nitrogen and potassium. At LawnQuest we have the knowledge and expertise to know what type of fertiliser to apply and how much to use.
Moss treatment in Frankby and Greasby
Ever heard of the Cornish Path Moss. You probably haven't because it is very rare. It was originally discovered in 1963 and is only found at two sites in the world, one in Southern Ireland and the other in Cornwall. Sadly, it is struggling to survive, and a project has been established to halt its decline and try to protect the existing populations. It's ironic that while one type of moss is trying to be saved, many of us are keen to get rid of the moss that is commonly seen in our gardens.
The problem with moss is that it can limit grass growth taking vital nutrients away from the grass, weakening it and affecting its visual appearance. It's important that you act fast when any signs of moss appear to stop it from spreading by using a moss treatment in Frankby and Greasby. That' s where LawnQuest can help.
LawnQuest will put together a tailor-made package of moss treatment in Frankby and Greasby. We are familiar with the range of treatments available and combinations of these, including fertilisers and moss and weed treatments and we have all the equipment needed to apply the moss treatment in Frankby and Greasby. To find out more give us a ring today.
Mowing Your Lawn Regularly – The Key to a Healthy Lawn!
If like a lot of people, you value your time and don't particularly find the idea of mowing your lawn an exciting one, hiring someone else to do it could be the answer. So, what are the benefits of using someone else and having a lawn cutting service in Franky and Greasby?
First of all, it saves you time, giving you new possibilities in your free time. Not having to mow the lawn on a Saturday or Sunday means a trip out, more time with the family or the opportunity to spend time working on other more enjoyable aspects of the garden.
Employing a lawn cutting service in Franky and Greasby means while you spend money for the service in the short term, you save money having to buy expensive equipment to cut your grass.
LawnQuest offer a lawn cutting service in Franky and Greasby throughout the summer months. We can visit your home at a time convenient to you. Ensuring that the lawn is cut frequently, and to the right height, will make a difference to the health of the lawn.
Contact LawnQuest today
Contact us to request a free lawn analysis and quote.