From Green to Greener – Lawn Treatments in Ellesmere Port!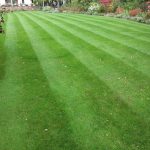 Your lawn is a living breathing thing and like anything that is living, to get the best out of it, it needs some TLC. It's good to remember that grass are little plants, and if you look after and care for them, the lawn will look after itself. However, while we all want a lush, healthy looking lawn, in reality, having the time to look after it is a challenge.
Let us take the stress out of looking after your lawns. At LawnQuest we provide comprehensive, tailor made lawn treatments in Ellesmere Port. Our feeding and weeding programme includes aeration scarification, moss treatment in Ellesmere Port, hollow tine aeration, scarification and top dressing – tackling all common lawn problems and ensuring optimum growing conditions.
The key to a healthy lawn is to feed it regularly. This will help it to look greener and fuller throughout the year. This takes effort and depending on the time of the year different lawn treatments in Ellesmere Port are needed. Our main treatment programme is based around the seasons with different lawn feed treatments applied on your lawn.
From Spring to Winter we have it Covered – Moss Treatment in Ellesmere Port!
In the Spring your lawn needs a kick start after it has been dormant over the Winter. As part of lawn feed, we apply slow release fertilisers, that rather than overwhelm the grass, gently give it a nudge to grow so that it starts to thicken up and is more able to combat weeds that will start to appear.
In the Summer it's all about maintaining the health of the grass and ensuring that it has all the nutrients it needs to do this. As part of this process we apply another slow release fertiliser or lawn feed. If necessary, we will also distribute weed control as it's this is the time of year when weeds are establishing themselves and putting down roots.
It's in the Autumn that a lawns worst enemy is likely to appear – moss, that's why it's generally at this time of the year that we apply a moss treatment in Ellesmere Port. Through scarification we will remove loose moss and then apply a moss killer that comprises of suppressant, doing this either by liquid form or using our push-along spreader.
Winter is a difficult time for grass. The grass plants growth is minimal, and this is the time when moss will thrive. It's for this reason that LawnQuest will visit your lawn and give another moss treatment in Ellesmere Port.
Why have lawn treatments in Ellesmere Port? Simply put, having a healthy lawn and maintaining it helps to limit the growth of moss and clover is limited. It ensures you have a stunning looking lawn throughout the year.
Bespoke Treatment Service
In addition to some of the treatments mentioned above we can also tailor packages to address specific needs that your lawn may have such as fungal disease, soil compaction and invasive grasses. To find out more give LawnQuest a ring.
Lawn Cutting Service in Ellesmere Port
If you simply need someone to come and mow your lawn on a regular basis LawnQuest provide a lawn cutting service in Ellesmere Port. Gone are the days when lawn cutting was a summer job. With climate change and generally milder weather, grass cutting can start as early as February or March making lawn mowing even more time intensive. As a lawn cutting service in Ellesmere Port, we can ease the stress of mowing your lawn by doing it for you, visiting your house on a regular basis to ensure your lawn is kept at the right length, which in turn this keeps it healthy. To find out more about our lawn cutting service in Ellesmere Port call LawnQuest today.
Contact LawnQuest today
Contact us to request a free lawn analysis and quote.