The Five Start All-Inclusive Lawn Treatments in Culcheth!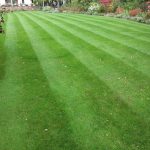 You've heard of all-inclusive holidays, but have you ever heard of an all-inclusive lawn treatment programme. That's what we provide at LawnQuest with our lawn treatments in Culcheth.
We have the knowledge and expertise to care for all your lawns needs with our lawn treatments in Culcheth. This can include a combination of lawn feed that's specific to the seasons or to the needs of your lawn.
With our range of lawn treatments in Culcheth we can address common problems like bare patches and weeds as well as provide moss treatment in Culcheth in order to restore your lawn to its former glory.
We will arrange an initial visit to your home to assess the lawn and suggest a series of treatments tailored to the needs of the grass and will give you a no obligation quote. If you are happy with our suggestions and recommendations we will then visit your home at regular intervals throughout the year, at times convenient to you to apply various types of lawn feed as well other treatments that are specifically tailored to the soil and grass.
We look after and treat both residential and commercial lawns and for your peace of mind the treatments that we use are safe around pets and children.
Don't Deprive Your Lawn of Lawn Feed
To achieve the perfect lawn takes a lot of time and effort which most of us don't have. Not only during the summer months does the lawn need mowing at least once a week, but throughout the year there's aerating the lawn, watering and fertilizing it with a lawn feed.
Why is it so important to feed your lawn? Because treating your lawn to lawn feed or fertilizer helps to increase its vigour and to prevent weeds and moss from getting established.
The optimum time to apply a lawn feed is in the Spring. The reason for this is that the soil temperature reaches 55 Degrees Fahrenheit so for most of England this means the first feeding should take place between mid to late April. With LawnQuest you don't have to worry about factors such as this because we know when the optimum time is to feed your lawn as well as what to treat it with, whether that's a slow release lawn feed containing nitrogen, phosphate and potassium or something else. We will apply the correct amounts and ensure good coverage.
Get a Moss Free Lawn with Moss Treatment in Culcheth
For many lawns moss is an ongoing problem which can prove difficult to get on top of without the right course of moss treatment in Culcheth. Raking is the preferred method of removing moss although depending on the size of your garden and the extent of the problem this can be both labour intensive and time consuming.
We can take the stress out of dealing with the moss problem by carrying out various procedures including raking and scarifying the lawn and applying a moss killer as part of our moss treatment in Culcheth. Depending on how badly affected the lawn is once the moss has been completely removed, parts of it might need to be seeded.
To find out more about moss treatment in Culcheth moss treatment in Culcheth give LawnQuest a ring today.
Contact LawnQuest today
Contact us to request a free lawn analysis and quote.