A Comprehensive Range of Lawn Treatments in Christleton and Newton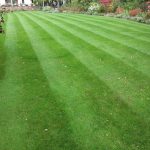 If you have a beautiful, healthy, green lawn, it is something to be proud of but to achieve it takes a lot of time, effort and patience. If you are finding you haven't got the time to look after your lawn or you are not sure how to treat an ongoing problem such as weeds or an infestation, LawnQuest can help. We are always thorough and conscientious when caring for your lawn.
We will visit you at your home at a convenient time and evaluate the condition of your lawn. We will talk through your requirements and any specific requests that you have and can offer informed and reliable advice on the best way to either maintain or improve the health of the grass.
Having assessed your lawn, we will put together a comprehensive lawn care programme. Our lawn treatments in Christleton and Newton usually involve 5 visits during the year. These are generally seasonal and will be tailored to the needs of your lawn. Based on our many years of experience, we know when and how to use a range of lawn treatments in Christleton and Newton.
Sulphur used to be part of the environment around us because it was abundant due to coal burning fires but because of smokeless fuels this is no longer the case and most soil is deficient of it. As part of our lawn treatments in Christleton and Newton we apply an annual dose of iron or ferrous sulphate as this is great for hardening the turf.
Sometimes it is hard to know what products to use on your lawn and when to apply them. With so much choice this can make it even more confusing, so leave it to LawnQuest. We have established ourselves as a reliable and trustworthy local business and have a portfolio of loyal clients whose lawns we have treated for many years. As a family run business, we are not part of a franchise so you can expect a personalised service.
Lawn Feed = Green Lawn!
Ever wondered how some people manage to get a luscious green lawn? The answer is Potassium. As part of a lawn feed programme, giving the grass Potassium will help it become a rich green colour. In addition, applying a variety of lawn fertilisers will help your lawn to increase in strength which in turn prevents weeds and moss from taking over.
At LawnQuest we keep up to date with new treatments and source only the best quality lawn feed. We use the latest products available for professionals. We apply the lawn feed as well as other lawn treatments in a safe and efficient manner. We don't cut corners, (pardon the pun)!
Moss Prevention with Moss Treatments in Christleton and Newton
Thatch is a fibrous layer of predominantly dead and some living grass roots, stems and runners. This layer lies between leaves of the grass plant above the surface, and the root system below. Over a period of time, if left, this can start to suffocate the healthy grass, restricting water and nutrients from getting through and weakening it, enabling moss to grow. Scarification is an effective way to remove the build up of thatch in you garden.
While scarification can be done manually at LawnQuest, as part of our moss treatments in Christleton and Newton we often use a motorised mechanical scarifier. This consists of rotating blades that penetrate the soil, lifting the thatch to the surface where it can then be raked away. We will bag and dispose of the thatch and moss. Why not compost it? Because it is very low in nutrients and will still contain moss spores which if spread over your lawn will start up the whole problem again!
As part of our moss treatments in Christleton and Newton we scarify and aerate a lawn and apply an appropriate moss killer. Realistically this process will have to be done more than once before all of the moss and thatch has been removed.
If you would like to know more about the effective ways that LawnQuest can remove thatch and moss from your lawn or would like advice about moss treatments in Christleton and Newton call 0800 112 3970.
Contact LawnQuest today
Contact us to request a free lawn analysis and quote.