Patchy, Dull Lawns – A Thing of the Past with Lawn Treatments in Chester!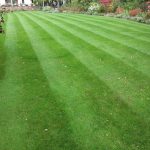 There's nothing quite so satisfying as looking out of the window and seeing a beautiful, lush looking green lawn. That's because most people think of dark, vibrant green grass as being associated with a healthy lawn and they would be right! In reality when you look out onto your garden, what do you see, is it a lawn that is patchy and full of weeds? For many people this is the more likely view from the window!
However, all is not lost, your lawn is not beyond help and with the right care and attention it can be transformed. LawnQuest has the skills and knowledge to understand your lawn based on over twenty years of experience. We know what your lawn needs from looking at it and know how to treat it with lawn treatments in Chester. Analysing your lawn is the first step. We recognise that every lawn is different and so what it requires will vary from garden to garden. Based on our analysis we will provide you with advice regarding what treatment programme is needed and then put together a plan.
We generally provide a rolling programme of five visits a year. This is a programme that ensures your lawn receives everything it needs to stay healthy throughout the seasons. We use a range of lawn treatments in Chester, to get your lawn looking as it should do, healthy and lush. These include fertiliser that is tailored to your lawns needs. Feeding your lawn with a balanced fertiliser that includes the correct analysis every time keeping your lawn healthy.
Banish the Moss with Moss Treatments in Chester!
At some stage most gardens will encounter the problem of moss. Not only does it look unsightly, but it also causes poor growing conditions for grass. Ideally improving the health of your lawn with a lawn feed will help to keep it a bay. However, if your lawn succumbs to it, moss treatments in Chester, containing a moss suppressant applied in Autumn and Spring can help. We have assisted countless customers to achieve a stunning green lawn by using lawn feed and moss treatments in Chester.
All we ask is that you do not mow your lawn one day after any regular lawn feed has been applied or moss treatment has been distributed over the lawn. There is also no need to water your lawn.
In addition to moss treatments in Chester and lawn feed we will carry out other manual treatments as well as essential lawn renovation works such as scarifying, aeration along with over seeding if needed. We also provide a lawn cutting service in Chester.
Lawn Mowing Need Not be a Chore with our Lawn Cutting Service in Chester!
Mowing the lawn is an essential job in the garden and during the Spring and Summer while the grass is growing a lawn needs to be cut at least once every two weeks. Love it or loathe it's a job that can't be left as it helps to create a luxuriant looking lawn. However, for many finding the time to do it can be a challenge, that's why at LawnQuest we offer a lawn cutting service in Chester. We also understand that the frequency that the lawn is mowed, the cutting height and lawn mower maintenance are all contributing factors to your lawn looking good which are all things that are taken care of with our lawn cutting service in Chester.
For affordable lawn treatments in Chester call LawnQuest today.
Contact LawnQuest today
Contact us to request a free lawn analysis and quote.