Lush Green Lawns with Lawn Treatments in Cheshire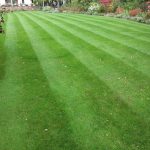 LawnQuest is your local, reliable lawn specialist operating throughout the Cheshire area. We provide a comprehensive programme of lawn treatments in Cheshire, that are tailored to the needs of your lawn. Whether it's specific issues that you have with your grass such as fungus caused by disease that you want addressing, or more general seasonal treatments that you require in order to ensure your lawn is kept in tip top condition, we can accommodate you.
Our lawn treatments in Cheshire revolve around 5 key visits that we will make through the year during the spring, summer, autumn and winter. We are happy to start our treatment programme at any time of the year. In early spring as the grass starts to grow, we will apply a specialist fertiliser to help the grass grow strong as well as a herbicide to control the weeds. In the summer months a lawn feed is used to nourish the grass. This usually includes balanced phosphorus and potassium as well as nitrogen and additional micro elements. If there are weeds starting to appear, as part of our lawn treatments in Cheshire we can apply a weed killer.
As autumn is the optimum time for your lawn to be affected by disease, an application of fertiliser is essential to encourage root development along with a moss control treatment. Finally, in the winter, lawn feed with a mix of nutrients to help the grass withstand the frost and damp conditions is applied as well as more moss killer.
Lawn Care
In addition to our lawn treatment programme, LawnQuest provide a range of other services as part of our lawn care. This includes scarification and aeration. One of the main problems that your lawn will experience is the build up of thatch. If left unattended, disease and bacteria will thrive in your lawn. The grass roots are eventually suffocated as the flow of oxygen is affected, killing the grass. Scarification as part of lawn care, reduces the thatch and restores the flow of oxygen making for a healthy happy lawn.
Aeration is a great way to encourage your lawn to grow thick and healthy especially when it has become quite impacted at the end of the summer, through use. It involves splitting the roots of the grass prompting it to grow offshoots. It also frees up the movement of nutrients, water and air.
So, if you feel your lawn is looking a little tired and past its best, LawnQuest can revitalise it with our lawn care services.
Say Goodbye to Moss with Moss Treatments in Cheshire
Speak to any gardener and they are likely to say that one of the most common problems they experience is moss in their lawn. With our years of experience, we can identify the type of moss growing in your garden as well as the best course of action to treat it. When moss infestation is quite light, application of a moss killer on a well-maintained lawn can often be enough as part of moss treatments in Cheshire.
If your lawn is overrun with moss, then simply putting moss killer on it won't be enough, it is likely to need scarifying and raking first then moss killer applied and then after a couple of weeks further raking. However, this process could leave a very patchy, bare lawn. This can easily be rectified by seeding and top dressing. These are all services that we provide as part of our moss treatments in Cheshire.
While it's important to treat the moss, it is also vital that the conditions that are causing it to grow are addressed otherwise it will be an ongoing problem. This is something that LawnQuest can help with.
For your peace of mind, for moss treatments in Cheshire, LawnQuest only use products that are safe and effective.
You Know Summer Has Arrived When You Need a Lawn Cutting Service in Cheshire!
There is a saying that an Englishman's home is his castle, but just as important to many is their garden. We all like to be proud of our lawn, in fact on average we spend £127 million on lawn mowers each year, but while mowing your lawn can be a pleasurable experience it can also be time consuming, something which most of us haven't got. That's why LawnQuest provide a weekly lawn cutting service in Cheshire throughout the summer months.
Whatever size, shape or condition of your lawn, mowing it on a regular basis will help keep it healthy. You might not think it but there is also an art to cutting grass, for example you should never cut more than a third of the height. Cutting off too much grass can stress it. Likewise changing the direction that you mow from time to time is important in order to prevent the grass lying flat. With so much to think about, why not use our lawn cutting service in Cheshire. At LawnQuest we will take the stress out of mowing your lawn.
For more information about our lawn cutting service in Cheshire, give LawnQuest a ring on 0151 355 7696.
Contact LawnQuest today
Contact us to request a free lawn analysis and quote.