Give your Lawn a Boost with Lawn Treatments in Caldy and Larton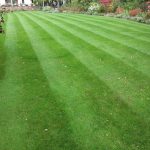 Weather conditions, increased use over the warmer months, and problems with weeds and insects can all take their toll on a lawn. That's why it is important to give your lawn a little care and attention from time to time with lawn treatments in Caldy and Larton. This will ensure your lawn is looking lovely all year round, helping the grass grow strong and healthy.
LawnQuest provide a range of lawn treatments in Caldy and Larton. We will visit your home to make an initial assessment of the condition of the grass and then compile a series of treatments tailored to the needs of the lawn. This might include applying a specific lawn feed or weed killer. We will always talk through our suggestions first with you to make sure you are happy with the plan before carrying out any of the work.
As part of the process of providing lawn treatments in Caldy and Larton, we will visit your home at key times throughout the year to apply seasonal treatments. Some treatments may start as early as March. In order to ensure that the grass has enough nutrients to support it through the summer months we might apply a lawn feed. It's also a good time to treat moss.
A fertiliser can be applied in June or July because by this time the grass will have used up most of the previous lawn feed. Doing this ensures your lawn is continuing to get plenty of nutrients. Autumn is a great time to scarify your lawn especially if there are signs of moss and in November it is not too late to apply a winter feed.
For your peace of mind, the treatments that we apply are safe around pets and children.
Moss Treatments in Caldy and Larton
In the UK moss is a common feature of most gardens. To many, moss looks the same wherever it is, however, you might be surprised to learn that there are 12,000 different species of mosses. They are so different from any other plants that they have earned their own separate classification — Bryophyta. They reproduce from spores rather than seeds and while in the right place such as a forest or woodland area they can be lovely to look at, more often than not they are an unwanted sight for most homeowners. That's when you need moss treatments in Caldy and Larton and that's where LawnQuest can help.
LawnQuest provide a comprehensive range of moss treatments in Caldy and Larton. While it can be labour and time intensive to rid your lawn of moss, we have all the right resources and equipment to treat your lawns, from scarifying and raking to applying moss killer, all carried out with minimal disruption to you and your family.
To find out more about moss treatment sin Caldy and Larton, ring LawnQuest on 0800 112 3970.
Keep Your Lawns Looking Trim with our Lawn Cutting Service in Caldy and Larton
During the winter months, unless we have some unusually warm weather, it is unlikely that your grass will need mowing. However as soon as we move into Spring and Summer, the grass starts growing and to maintain the health of your lawn it's important that the grass is cut at least once a week.
For many households this can be a hassle as depending on the size of your lawn, it can be a time-consuming exercise. It's another task that you need to fit into an already tight schedule. That's why throughout the summer months, LawnQuest provide a lawn cutting service in Caldy and Larton.
With our lawn cutting service in Caldy and Larton, we are happy to come and cut your lawn on a fortnightly or weekly basis. We would recommend that in the Spring the grass is cut fortnightly and as the weather warms up by late spring it should be cut weekly.
For more information about our lawn cutting service in Caldy and Larton, give us a ring today.
Contact LawnQuest today
Contact us to request a free lawn analysis and quote.