Professional Lawn Treatments in Bidston and Moreton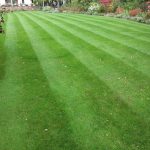 As a result of more and more people working from home since the start of the Coronavirus pandemic, more time is now being spent not just in the house but in the garden or at very least, looking out onto the garden! It's for this reason that it is more important than ever to ensure your lawn is looking its best. This means maintaining its health with lawn treatments in Bidston and Moreton.
LawnQuest provide a broad range of lawn treatments in Bidston and Moreton which can be adapted to your lawns needs. As we are a small business, we pride ourselves on being able to offer the personalised touch. As part of our lawn treatments in Bidston and Moreton, you will always get the same person visiting your home or business. They will get to know you and give you the opportunity to talk to them about any specific concerns or worries that you have about your lawn. This provides our customers with consistency and continuity which you do not generally get with larger lawn treatment companies.
How to Fertilise your Lawn with Lawn Feed
For a comprehensive lawn treatment programme, lawn feed should be applied on a regular basis five times a year. LawnQuest will visit your home in early spring, usually around March-April and then two visits in May – September and a final visit two visits in Autumn and Winter between September and February.
We understand what key ingredients should be in the lawn feed at these specific times. In the spring, nitrogen is required whereas in the autumn potassium is needed to help the hardiness of the grass. If necessary, we can visit again in the winter to add a low nitrogen content lawn feed to improve your lawn through the cold months helping it to withstand the harsher weather conditions.
It's not just a case of knowing when and what to fertilise your garden with but other factors need to be considered such as moisture and temperature levels in the soil. These can be affected by the fertilisers that are used. We have the knowledge and expertise to take all of this into consideration providing you with professional advice and recommendations.
We also have all the necessary equipment needed to apply the fertiliser such as handheld spreaders which are ideal for using in gardens that are not a standard shape. We also use mechanical push along spreaders for larger gardens.
Moss Treatment in Bidston and Moreton
Moss infestations are a common problem in most gardens. Even the healthiest lawns can succumb to moss so at some time in the life span of your lawn you will need moss treatment in Bidston and Moreton and that's when LawnQuest can help.
No matter how severe the moss problem is we can fix it. Based on our years of experience and tried and tested methods we know what the best products are to use for moss treatment in Bidston and Moreton.
To address the problem of moss we will try to rake out as much of it as possible and then apply a traditional moss killer such as a product containing Iron to the moss that has been left behind. You will see the moss turn black within a few hours and in 7-10 days the moss will be completely dead. At his point we will revisit your garden to rake up and remove the dead moss.
Moss in your lawn can also be an indication of other problems such as soil compaction and excess lawn thatch, both of which LawnQuest can treat.
To find out more about moss treatment in Bidston and Moreton ring LawnQuest today on 0800 112 3970.
Reliable and Prompt Lawn Cutting Service in Bidston and Moreton
During the summer months, grass can grow at an impressive rate, in fact it grows so fast that it needs to be cut at least once a week. Having the time to do this can be challenging especially when you are working full time or have a family to care for. That's where our summer lawn cutting service in Bidston and Moreton can help.
As part of our lawn cutting service in Bidston and Moreton, LawnQuest will visit your home every week throughout the summer months to cut the grass and keep it looking at its best. We are reliable and efficient and carry out our work in a professional manner. We can be flexible to fit in our visits at a time and on a day that's suitable for you.
Before we start any work, we will give you an estimate of how much it will cost to cut your grass. This will obviously depend on how big your lawn is and its condition. A lawn that's in good condition will cost less to cut because it is less time consuming.
To provide our professional lawn cutting service in Bidston and Moreton we use high performance lawn mowing equipment, guaranteeing you a good job completed in quick time.
Contact LawnQuest today
Contact us to request a free lawn analysis and quote.