A Lawn Treatment Programme Tailored to the Needs of Your Lawn!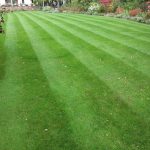 There's always work to do on your lawn regardless of the time of year.
In the winter while not a lot may seem to be happening with your lawn, there can be growth spurts, so on a dry day your lawn may need the lawn mower on it. It's also important to remove leaves that have accumulated as if left in place they can suffocate and weaken the grass and can also encourage moss due to the damp conditions, so a moss treatment in Bebington will be needed.
By Mid to late Spring your lawn will have started to grow again and will need cutting. It's also a good time to aerate and scarify the lawn, which will in turn prepare it for being fed and fertilised with lawn treatments in Bebington in order to help the grass regain its strength and encourage growth.
It's usually during the month of May when lawn growth really takes off and the grass will need to be cut at a lower height. In June it's probably going to need mowing once a week. Lawn treatments in Bebington including weed treatments can be applied at this time of the year too.
Get a Healthy Lawn using Lawn Feed
There are about 12 different grasses and most lawns contain a mixture of them, so it can be difficult to know what the best lawn treatments in Bebington are. At LawnQuest we are familiar with the range of lawn feed and lawn treatments available and can pair the lawn feed to the type of grass and type of soil as well as other environmental factors in your garden that will influence what products we use.
Throughout July and August aerating your lawn might be necessary which can be done by spiking the lawn with an aerator. This will help to ensure your lawn is able to absorb water. It's at this time of year that you may be tempted to give the grass too much lawn feed. While this might give it a helping hand, you can over stimulate the grass to grow too fast which means you will spend more time mowing it and the grass can wilt.
Finally, the Autumn, while a stunning time of the year, is a busy time of year for your lawn. It's the ideal time to scarify it to reduce the build-up of thatch and if you find you have some bare patches it's a good time to lay some lawn seed along with an Autumn fertiliser.
Banish the Moss with Moss Treatment in Bebington
While you may follow this routine, moss and weeds can still appear but can be addressed with a moss treatment in Bebington usually containing some type of iron and micro nutrients.
Take Back some Time for Yourself with our Lawn Cutting Service in Bebington
Every stage of caring for your lawn involves cutting the grass but simply put most people haven't got the time needed to do this properly, so let us mow your lawn with our lawn cutting service in Bebington. We provide a lawn cutting service in Bebington during the growing season.
With so much to think about, providing the appropriate care and giving your lawn the right amount of attention, doesn't have to be a "back breaking" job if you leave it to the professionals at LawnQuest. We will help to ensure that your lawn is healthy no matter what time of year it is. While the seasons may change your lawn will maintain a lush looking colour.
To find out more about moss treatment in Bebington and our lawn cutting service in Bebington ring LawnQuest today.
Contact LawnQuest today
Contact us to request a free lawn analysis and quote.