Professional and Affordable Lawn Treatments in Barnston and Other Lawn Services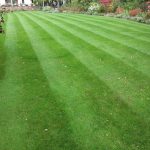 LawnQuest provides a reliable and professional lawn treatment service for both domestic and commercial customers. We can put together bespoke lawn treatments in Barnston that take into consideration the individual needs of the grass. That's because at LawnQuest, we recognise that no two lawns are the same. In fact, you could have two gardens at two houses on the same road in the same village, but the lawn treatments in Barnston, that are needed for the grass could be completely different because of factors such as light, water and temperature.
We want you to have a beautiful, green, well presented lawn which is all achieved at an affordable price that also saves you not just money but time so we will advise you on appropriate lawn treatments in Barnston, as part of a tailor made package to suit your lawns needs. We will also use a lawn feed that will help the grass to flourish. If you have specific problems in your garden such as issues with moss, weeds, or Chafer Grub etc, we can help and advise you with these and consider each lawn on a case by case basis. We will visit your home 5 times a year, applying seasonal lawn feed treatments as well as carrying out any other tasks to help your grass grow healthy and strong such as scarification and aeration and moss treatment in Barnston.
As a small but established business we offer our customers a personalised service. You can talk to us any time if you have concerns about your lawn or want to address any specific issues such as with weed and moss control. We use the best products that are tried and tested and produce great results. We are also mindful of using products that are eco friendly and are not harmful to children and pets or us!
Applying lawn feed is a key part of treating your lawn. Just as we need to ensure we are getting all the necessary vitamins into our bodies, which sometimes means we need to take supplements, grass can quickly use up its food reserves and so needs extra nutrients to ensure it stays green and strong rather than pale, yellowy in colour and weak. Our regular visits to feed your lawn at key times of the year will keep your lawn in tip top condition.
Moss is notorious for spreading quickly and if it's not kept in check can soon take over a lawn. If you spot loose green or yellow tufts growing amongst the grass then you have got moss growing. While it may naturally die off in the summer it will leave behind unsightly bald patches, which when you are spending more time during the summer months in the garden is the last thing that you want to have to look at! That's when you need a moss treatment in Barnston which we can come and apply at a time convenient to you.
Lawn cutting doesn't have to be a chore, let LawnQuest do the work for you with our lawn cutting service in Barnston. We can visit your home of commercial property regularly throughout the summer to cut your lawns. Not only is our lawn cutting service in Barnston less time consuming for you, but we can take the stress out of cutting it right as there is a skill involved in cutting your lawn correctly. For example, where the grass may have been left to grow a little too long or is in a damp area, slow down the speed. Slopes and areas of the lawn where there is a lot of shade should be mowed on one setting higher than the rest of the lawn and each run up the lawn with the lawn mower should slightly overlap the previous one. At LawnQuest we have the expertise and experience to offer a lawn cutting service in Barnston which means your lawn will be mowed accurately and effectively to get the best results.
To find out more about lawn treatments and moss treatment in Barnston or any of the other services we offer, give LawnQuest a ring today or send us an email.
Contact LawnQuest today
Contact us to request a free lawn analysis and quote.