Wherever there is a piece of lawn we will provide Lawn Treatments in Appleton!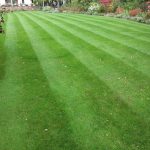 At LawnQuest we provide lawn treatments in Appleton for both home owners and business owners as we offer residential and commercial lawn treatments in Appleton which includes fertiliser and other types of lawn feed. Our lawn treatments in Appleton are designed to strengthen the grass and improve its health so that it will increase its longevity, control disease and moss and will ultimately improve the colour of the grass.
We will visit your home and carry out a lawn survey in order to put together a bespoke treatment programme that includes lawn feed and moss treatment in Appleton if necessary, a weed control. We will analyse the condition the soil type and condition of the grass as well as factors such as the amount of shade across the lawn as these are all things that can affect the health of the grass.
We will give you a free no obligation quote and should you decide to use LawnQuest we will then visit your home at regular intervals throughout the year to apply various lawn feed. It's usually 4-5 treatments that revolve around the seasons including early and late summer treatments. We are always thinking ahead so in the Autumn and Winter a lot of the work we do is preparing the lawn for the following year so that it will be in peak condition the Spring and Summer.
Keep Your Lawn in Tip Top Condition with Lawn Feed
With so many factors to consider when deciding on what lawn feed to use, such as the soil makeup, grass type, soil moisture levels and soil compaction levels, and of course add into the equation that some of these factors will vary depending on the time of the year, it can be difficult to know what fertiliser to choose!
Drawing on our years of experience in lawn care, LawnQuest will choose for you and your lawn the right fertiliser. These lawn feed treatments will then be applied safely and accurately to ensure good coverage as well as causing no harm to pets, humans or the environment.
Moss Be Gone! See the Results with Moss Treatment in Appleton!
When you think of moss you probably think of the coarse, green or yellowy tufts that grow between the grass, but did you know that there are several types of moss that grow on lawns? Whichever type of moss it is, there is no doubt that moss is a common problem experienced by most gardeners and while it can be time intensive to get rid of it's not impossible, especially when you use lawn care experts like LawnQuest.
With our moss treatment in Appleton we will scarify the grass to remove as much of the moss as possible and thin out what is left. Because the moss is thinner, when we next apply a moss killer containing sulphate of iron, it will have a greater impact as it will penetrate into the moss. You can see when this is working because the moss turns black after about 2-3 weeks and can be then scarified again, and the moss removed.
Combining a moss treatment with lawn treatments will ensure that the moss doesn't grow back. Feeding your lawn will encourage vigorous grass growth which in itself will combat any possible return of moss. That's why at LawnQuest we provide a comprehensive package of treatments that complement one another.
Contact LawnQuest today
Contact us to request a free lawn analysis and quote.