Lawn Treatments in Storeton = Healthy Lawn = Healthy Mind!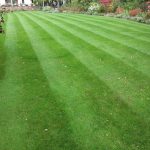 It is a widely known fact that being outside and spending time close to nature can improve a person's mental health. It has been linked to lots of benefits including lowering stress, improving attention, and raising a person's mood. It's for these reasons that one of the best prescriptions any Doctor can give is to get out into the garden, and it's no surprise that most of us like to have some green space outside our home. It is also usually the garden that is one of the main selling points when buying a property.
That said, looking out on an overgrown, unkempt, and unhealthy-looking lawn can be a source of stress and worry and having time to maintain and treat it regularly can be a burden as it can take a lot of effort to keep it looking at its best. That's where LawnQuest can help. Let us take on the strain of caring for your lawn so you can de-stress rather than stress over your garden. We provide an extensive range of lawn treatments in Storeton including a regular application of lawn feed which is designed to ensure you have a lush, vibrant looking lawn all year round, even in the winter!
Some of our lawn treatments in Storeton include aeration and scarification, over seeding, moss and weed control and lawn renovation. However, because there is never a "one size fits all" to treating your lawn we will adapt our services to suit your lawns needs. Part of this includes an initial home visit to assess the health of your lawn and the overall condition of the grass. We will then put together some suggestions to maintain a healthy lawn or to address problems with it such as weeds, disease, or the common UK problem of moss! If you have an ongoing issue with the latter, we can suggest a moss treatment in Storeton.
Lawn Feed – An Essential Ingredient for a Healthy Lawn
Throughout the year at various intervals during the seasons we will come to your home. The purpose of these visits is to apply a lawn feed or fertiliser. Due to changing weather conditions and temperatures throughout the year, the grass needs different nutrients at different times to ensure it is kept healthy and strong. Because of this we tailor our treatments including an appropriate lawn feed based on the elements in the soil and the weather.
We keep up to date with the latest developments in fertilizers and other products for using on your lawn. This ensures that we are able to provide the most effective lawn treatments in Storeton. If you would like to find out more about our treatment programmes including what's involved and cost, please give us a ring on 0800 112 3970.
Get Rid of the Wolf with a Moss Treatment in Storeton!
You could be forgiven for looking at your lawn and thinking it is healthy. However, what may not be obvious is moss growing amongst the grass. That's because when moss first appears, it can make your lawn look deceptively green and healthy. But don't be taken in, moss is a bit like wolf in sheeps clothing! To begin with it will improve the appearance of your lawn but over time, if left untreated, it will suffocate the grass and eventually kill it, leaving you with unsightly bare patches.
We can help to prevent this by giving your lawn a regular application of a moss treatment in Storeton. We know when the optimum time is for applying a moss treatment in Storeton. The best time to get rid of moss is during the Spring and Autumn. LawnQuest are happy to visit you at your home and discuss and recommend various treatments. It's important to treat it when the first signs of it appear however, as with most things, prevention is better than cure so in the long-term feeding and caring for your lawn to ensure it is in the best possible health will help to combat the potential for moss growth.
Have our Lawn Cutting Service in Storeton and Reap the Benefits!
It may seem a small but time-consuming task that we associate with the summer months, but it is an important one, what is it? Mowing your lawn. Cutting the grass is one of the most important things you can do to help your lawn grow healthy. However, if you have a limited amount of free time, it can quickly become an unwanted chore having to mow your lawn. That's when LawnQuest can help. Let us take on the responsibility and look after your lawn with our lawn cutting service in Storeton. We will come to your home and cut the grass once a week or once every two weeks, ensuring it is kept at a healthy length.
Our lawn cutting service in Storeton includes visiting your home at a time convenient to you and we will mow the lawn with minimum disruption to you. While you might think that cutting your lawn is a simple job, there is a skill involved and several factors that need to be considered. What are they? First of all, it's important to cut the grass in a different direction from time to time to help strengthen it. Likewise, never cut more than a third off the grass as this can harm it. That's the advantage of having our lawn cutting service in Storeton we know how and when to mow your lawn! To find out more give us a ring.
Contact LawnQuest today
Contact us to request a free lawn analysis and quote.