Healthy Lawn, Happy Garden with Lawn Treatment in Storeton!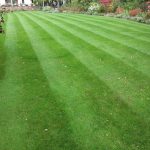 Did you know that the average British Garden is 50ft long and has 10 types of flowers in it? It's a proven fact that spending time outside can improve a person's mental health and being close to nature can help give us a sense of perspective, so it's no surprise that most of us like to have some green space outside our home. In fact, the garden is often one of the key selling points when buying a property.
Having a garden comes at a cost though, as it takes time and effort to look after it. Even a lawn must be maintained regularly to ensure that it is kept looking at its best. That's where LawnQuest can help. We offer a comprehensive lawn treatment in Storeton programme which is designed to ensure you have a beautiful looking lawn all year round, even in the winter!
Our lawn treatment in Storeton includes aeration and scarification, over seeding, moss and weed control and lawn renovation. We can tailor our services to the needs of the grass as we understand that no two lawns are the same so we never assume that one course of treatment will suit all lawns. Instead we will visit you at your home to carry out an initial assessment of the condition of the grass and then put together some suggestions of what lawn feed it should be given and if moss is identified, we will suggest a moss treatment in Storeton.
We will visit your home at regular intervals throughout the year to give your lawn seasonal lawn feed including fertiliser. Due to changing weather conditions during the year, the grass needs different nutrients at different times to ensure it's kept healthy and strong, so we use an appropriate lawn feed based on the elements in the soil and the weather.
When moss first appears, it can actually make your lawn look green and healthy, however don't be deceived. Moss is like sheep in wolfs clothing. While it may initially improve the appearance of your lawn, in the long term if left untreated it will take over the grass and kill it leaving you with a patchy lawn. The best time to get rid of moss is during the Spring and Autumn. LawnQuest are happy to visit you at your home and apply a moss treatment in Storeton during these times of the year. It's better to treat it when the first signs of moss appear and to prevent a bigger problem later.
Mowing your lawn is one of the most important things you can do to help your lawn grow, however this can take time, especially in the summer when it can need cutting as much as twice a week. Let LawnQuest take the stress out of mowing your lawn with our lawn cutting service in Storeton. We can visit your home and cut the grass as regularly as needed during the growing season to ensure that a healthy lawn is maintained. As part of our lawn cutting service in Storeton, we will visit at a time convenient to you and will mow the lawn with minimum disruption to you. While you might think that cutting your lawn is a simple job, there is a skill involved and several factors that need to be considered. For example, it's good to cut the grass in a different direction from time to time to help strengthen it. Likewise, never cut more than a third off the grass as this can harm it. Let us worry about these factors with our lawn cutting service in Storeton.
For more information about our moss treatment in Storeton as well as lawn treatment in Storeton, give LawnQuest a ring today.
Contact LawnQuest today
Contact us to request a free lawn analysis and quote.